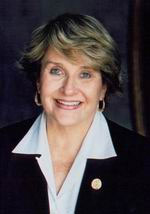 My representative in Congress for my district is Louise Slaughter. She has been the representative for my district her in Rochester since 1987. She is a Democrat and has a horrible record when it comes to immigration reform.
I recently received an email notice that CongressGrades.org recently updated her report card based on recent actions she has taken in Congress regarding immigration reform.
Items that they follow include reducing chain migration, cracking down on illegal immigration and limiting visa's to a reasonable level.
Louise Slaughter's career grade is an F. Her recent grade is a D-. I guess I'm supposed to be happy that she moved her grade up a little bit. It is all simply due to one vote to reduce unnecessary visa's which should be a given for any representative in Congress. I mean why give out unnecessary visas?
| | | |
| --- | --- | --- |
| Immigration Item | Career Stance | Recent Stance |
| Reduce CHAIN MIGRATION | F- | No Action |
| Reduce VISA LOTTERY | F- | F- |
| Reduce Unnecessary Visas FOREIGN WORKERS | C | A+ |
| Reduce Fraud REFUGEE & ASYLUM | F- | No Action |
| Reduce Enticement for Illegal Immigration AMNESTIES | F- | F- |
| Reduce Illegal Immigration ANCHOR BABY CITIZENSHIP | No Action | No Action |
| Reduce Illegal Immigration OTHER REWARDS | D | F- |
| Reduce Illegal Immigration BORDER CONTROL | D- | F- |
| Reduce Illegal Immigration INTERIOR ENFORCEMENT | D- | F |
Clearly Louise Slaughter doesn't care about the issue of immigration. I will admit that illegal immigration doesn't seem to be as much of an issue up here in Rochester, at least not visibly. That is not the point. Just because the problem isn't visible here doesn't mean you should divorce yourself from the issue and allow the rest of the United States to go to hell in a hand basket.
Being a representative in Congress means representing your constituents views. It doesn't mean simply pandering to get things for your district, but to put forth the beliefs of those who elected you on a national level, not just local conditions. I find it very hard to believe that people here in Rochester have an F- view on immigration. People here are very patriotic and would not hand their country over so easily.
This lady should be thrown out on her ass for her lack of action on this issue and not representing the true wants of those who elected her. If my kid brought home these kinds of grades from school there'd be some serious punishment.
You can find out more on your representatives actions regarding immigration at Congress Grades