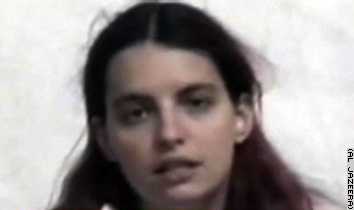 Former hostage Jill Carroll, a journalist for the Christian Science Monitor, will appear on ABC's Good Morning America this morning to recount her tale of captivity at the hands of terrorists. The constant fear of being killed at any moment was so trying that she had problems even swallowing her food at times due to the devastating thought of her situation and that she was at the terrorists mercy.
Jill Carroll was taken hostage in January and held for 82 days, being released on March 30, 2006. During that time Carroll appeared on video numerous times as her captors demanded the release of female Iraqi prisoners or they would murder Carroll.
Her captivity ended with a sigh of relief, she was eventually released and Jill Carroll's terrorist hostage takers were captured by the Marines in May.
Here's what Jill Carroll had to say about her capture to ABC News


"Suddenly a large blue truck with red and yellow trim backed out of a driveway in front of us, completely blocking the road. Several men were standing around it, motioning to help it back out," she said. "But in an instant they turned, trained pistols on us, and briskly approached the car. … It was a routine we had become familiar with in Baghdad, where private security details often brandish weapons to clear a path for their clients."

...

The gunmen then ran at them, her driver and translator were taken from the car, and she was kidnapped.

...

She would later be asked by her captors to make the first in a series of hostage videos.

The request brought to mind for Carroll other hostage videos broadcast on al-Jazeera where victims made their plea and were then murdered in front of the cameras.

"I thought, 'Oh God, that's going to be me,' " Carroll said.

...

"By the end of it … I was really crying," she said. "It just sort of came out, all of the frustration and the stress. Then they said, 'You know what? You didn't cry enough in that video. You have to do again.' "

...

"I knew what that meant: It means in three or four days they put you in al-Jazeera to do it again to cut your head off," Carroll said.

And there is no doubt they would have as they have done so in the past. Numerous incidents of hostages that have been beheaded by these murderous thugs can be found in the hostages archive of Diggers Realm.
Below are some of the hostages that have been taken in Iraq. Some of them had a "happy ending" like Jill Carroll, some of them not and still some of them have not been heard of since they were taken hostage. Jill Carroll speaking out reminds us not to forget these other hostages.