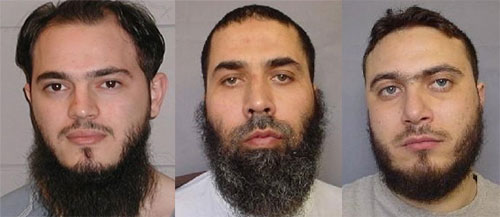 Left to Right: Mohammad Zaki Amawi, Marwan Othman El-Hindi, and Wassim Mazloum
Three Toledo men were indicted for planning attacks on US troops. Mohammad Zaki Amawi, Marwan Othman El-Hindi, and Wassim Mazloum were arrested for planning attacks on Americans overseas, for helping to materially support terrorism and for plotting assassination attempts on President Bush.
The three were in the country legally. I'm wondering how they got into the country in the first place. One of them is a dual citizen of Jordan and the US. Dual citizenship needs to be outlawed in my opinion. How can you be loyal to two countries who may have disagreements or potential conflicts of interests? You can't. You;ll always choose one over the other.
Pure treason. And guess what? All three are Muslim. Who would have thought...

The men named in the indictment are: Mohammad Zaki Amawi, 26, who was a citizen of Jordan and the United States who lived in Toledo until August 2005; Marwan Othman El-Hindi, a 42-year-old naturalized U.S. citizen born in Amman, Jordan who lives in Toledo; and Wassim Mazloum, a 24-year-old legal U.S. resident who operated a car business with his brother in Toledo after entering the United States from Lebanon.

...

Amawi is accused of twice threatening in conversations to kill or injure Bush... the three men went as far as identifying a trip Bush was planning to Toledo and talked about ways of trying to get to him, including ramming his motorcade. But they eventually decided that security was too tight and that they were likely to get caught or killed and not be able to kill the president in the process.

And from teh Department of Justice.

As alleged in the indictment, these defendants have been living in the United States where they have been engaging in weapons training, sympathizing with the terrorists, and seeking to provide help in order to kill people abroad, including our troops.

Further, as alleged, all three defendants discussed training, making or manufacturing or using Improvised Explosive Devices or IEDs. Amawi engaged in an instructional session on the construction and use of IEDs and timing devices. Amawi stated that his aim was to target US military assets. As we know, one of the greatest dangers to our men and women fighting overseas in Iraq is the IED.

Let me give you a snapshot of their efforts to wage violent jihad against the United States:

-The three defendants educated themselves on how to make and use explosives and suicide bomb vests. The materials included both plastic explosives and nitroglycerine.

-The three carried out their own jihad military training exercises, which included the use of firearms and the shooting of weapons; one sought mortar training.

-The three defendants also conspired to provide material support including money, training, communications equipment, computers or personnel, including themselves, to co-conspirators in the Middle East.

-The three also planned to use a business to justify travel to Iraq and conspired to establish a dummy nonprofit tax education organization to raise funds for the jihad.

-Amawi also downloaded a video from a "mujahideen web site" which included step-by-step instruction on how to use a suicide bomb vest and passed this information on to another individual.

-Amawi also made verbal threats to kill or inflict bodily harm against the President of the United States.

If convicted of the most serious charges of conspiring to kill or maim people outside of the United States, the defendants could receive sentences of up to life in prison. I should point out that this is an indictment and that the defendants have not yet been convicted of a crime.

There's a lot more on this.
Other Commentary:
The Counterterrorism Blog
RightWinged
California Yankee
Backcountry Conservative
Conservative Thinking
The Galvin Opinion
Hyscience
Flopping Aces
Kim Priestap
The Strata-Sphere
The Jawa Report
Interested Participant
Flap's Blog
NoisyRoom.net
The Political Pitbull
Iowa Voice
In The Bullpen