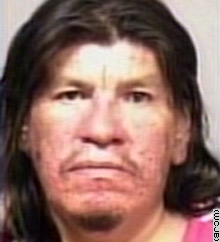 Franklin Paul Crow, 56, confessed to killing 58-year-old Kenneth Matthews with a claw hammer and sledge hammer over lack of toilet paper. Mathews was said to be beaten so bad that they could only identify him through fingerprints.
This guy not only looks scary, but has some serious anger issues. Imagine him coming after you in a small apartment with a hammer!

Franklin Paul Crow, 56, was charged Monday with homicide, according to a spokesman with the Marion County Sheriff's Office.

...

Capt. Thomas Bibb said Crow initially denied his involvement, but later confessed during questioning.

Crow told investigators that the men were fighting about the toilet paper over the weekend when Matthews pulled out a rifle.

Crow said he then began beating Matthews with the sledgehammer and claw hammer, according to an affidavit.

I wonder what tribe he is from and where I may be related my grandfather has the same name and he was native
Posted by: lenny on December 23, 2011 11:44 AM