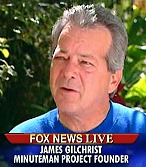 Here's a press release I received from the host of Subject2Discussion, Shaun OMac. Shaun has been trying to get me to do the program for a few months and with my recent move we haven't been able to hook up yet, but he's landed a whopper of a guest in James Gilchrist. Gilchrist is the founder of the
Minuteman Project
and is
running for Congress
in California's 48th district. On October 4th, 2005 he beat out the top Democrat and
garnered enough votes
to be in a runoff on December 8th, 2005. He placed third and was just under 2000 votes off the second place candidate.
Be sure to catch this interview.
Jim Gilchrist founder of Minutemen Civil Defense Corps, which deploys volunteers along U.S. borders to watch out for illegal immigrants and candidate for Congress will be on SUBJECT2DISCUSSION Wednesday October 12 at 7 pm PT.

Listeners from across the globe can listen to the program by going to http://www.LVROCKS.com at 7 PM PT,9 PM CT and 10 PM ET and click on LISTEN and click on CAM/CHAT.

This issue needs to be brought back to the forefront and who better than the founder of Minutemen movement and patriot Jim Gilchrist to help us get the issue back on the front burner.

SUBJECT2DISCUSSION is a LIVE news and comment program that interviews bloggers and other newsmakers of note.

At http://www.LVROCKS.COM listeners can join in the lively chatroom discussion during the program.

Also the program is podcasted for those who miss the LIVE program: If you have an IPOD here is the IPOD rss url: http://podcasts.lvrocks.com/rss.aspx?channelid=5

If you do not have an IPOD you can still listen to the podcast via this address: http://podcasts.lvrocks.com/details.aspx?castid=5 by clicking on that address it takes you to a screen where you can pick and choose the previous programs to listen to.