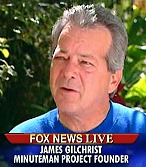 James Gilchrist, founder of the
Minuteman Project
, has thrown his hat into the ring as an "American Independent" for the seat in Orange County being vacated by Rep. Chris Cox (R-CA) who accepted the job as SEC Chairman. Gilchrist is a veteran marine who received a purple heart in Vietnam.
Diggers Realm is officially announcing it's support for James Gilchrist. The primary will be held Oct. 4, 2005. The other Republicans, such as State Senator John Campbell, have actually voted for giving in-state tuition to illegal aliens!
If you'd like to donate to Gilchrist's campaign and make your voice heard please click here.
Gilchrist's official website is at www.jimgilchrist.com where you can hear an audio feed.
A recent ruling by California Secretary of State Bruce McPherson has said that Gilchrist cannot use his title of founder of the Minuteman Project on the ballot (tipped by California Election Law Blog).
McPherson ruled that "Minuteman Project founder" constituted "a commercial identification" ...

McPherson's spokeswoman said the office did get a complaint about the labels but that the staff routinely checks the designations.
Of course they got a complaint. The pro-open borders groups will be viciously attacking Gilchrist and this was just the first move against his campaign.
James Gilchrist has never held political office, but the founder of the Minuteman Project expects his notoriety as a border enforcer to help him win California's special election to replace former Rep. Christopher Cox.

Mr. Gilchrist, whose organization received nationwide attention by protesting illegal immigration during an April border vigil in Arizona, said campaign contributions are flowing in from across the country and that his work on the immigration issue has broadened his knowledge on several others.

"This seemingly one issue affects schools, hospitals, crime, unemployment, transportation congestion and Social Security," said Mr. Gilchrist, 56, a retired accountant who received a Purple Heart as a Marine in Vietnam.

Mr. Gilchrist is running as an independent against 17 other candidates in the Oct. 4 special election to fill the seat Mr. Cox, a Republican, vacated after being nominated by President Bush to head the Securities Exchange Commission. California's 48th district is a Republican stronghold that encompasses most of Orange County.

"The thing that makes this race interesting and gives it a national twist is that Jim Gilchrist squeezed out [former Republican Rep.] Bob Dornan from doing a comeback campaign," said Allan Hoffenblum, Republican political analyst and publisher of the California Target Book, a statewide political tracking report.

Mr. Dornan, a 20-year congressional veteran, called Mr. Gilchrist last week before the Aug. 22 filing deadline and urged the activist to run for Congress.

"I asked if he was running, and he said, 'No, I'm supporting you,'?" Mr. Gilchrist said.

A spokeswoman for the Democratic Congressional Campaign Committee did not return a call for comment on the race.

Although the congressional district is considered conservative, a Democrat or moderate Republican could win because of the state's unusual "open" primary rules in special elections.

All candidates are on the same ballot, regardless of party, and a candidate must receive more than 50 percent of the vote to win -- an unlikely event with nearly 20 candidates in the race.

If nobody wins, the top vote-getters of each party would face off in a Dec. 6 general election, and as the lone independent, Mr. Gilchrist is assured a spot.

A split among conservatives voting for Mr. Gilchrist and state Sen. John Campbell, reportedly backed by Gov. Arnold Schwarzenegger, could swing the vote to a Democratic candidate, Mr. Hoffenblum said.

"Gilchrist will appeal to the hard-core conservatives on the single issue of immigration, and one would think, take votes away from John Campbell," Mr. Hoffenblum said.
Tipped by: California Conservative
Other Commentary:
Michelle Malkin
Powder Blue Report
Swing State Project
OC Blog
PoliPundit
The CA-48 Blog