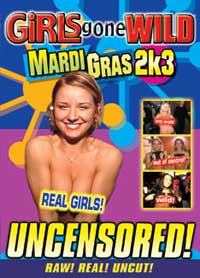 The company behind the
Girls Gone Wild
series of videos, Mantra Films, has announced it is donating the proceeds of Mardi Gras versions of the videos from the time the Hurricane hit to the Red Cross to help Hurricane Katrina victims.
Who says all perverts are bad. I can see the reaction from the religious right already "we would rather have all the victims die than to receive this tainted money".
"Mardi Gras is synonymous with New Orleans and 'Girls Gone Wild' is synonymous with Mardi Gras," Bill Horn of Mantra Films, the southern California company behind "Girls Gone Wild," told AFP.

"We have a personal and profound connection to the city," Horn continued. "We had to do something."

"Girls Gone Wild" will donate to the Red Cross the online purchase prices of each title or package set "that has anything to do with Mardi Gras," including "the very popular 'Girls Gone Wild Doggy Style'," with rapper Snoop Dogg, Horn said.

...

"I think I'm going to stick to the high road here," HT Linke of the Red Cross in Los Angeles responded when told of the "Girls Gone Wild" donation plans.
Tipped by: FARK
Hey Digger how about some more images from the Girls Mardis Gras vid, see if you can find that little blond on the cover!!
Posted by: ttyler5 Houston on September 19, 2005 06:48 AM
I love this megazine so mush,please send some good pic.
Posted by: Dino on June 27, 2007 09:41 AM