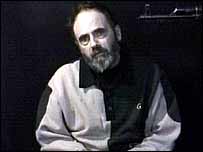 Roy Hallums, who
was taken hostage November 1, 2004
, has been rescued along with an Iraqi by coalition forces in a small farm house south of Baghdad.
The first sign of Hallums still alive was in a video released of him pleading for his life January 25, 2005 by the terrorists holding him.
A few days after the release of the video, Moammar Gadhafi called for Hallums release. In February even Jesse Jackson stuck his nose into the situation attempting to get involved in negotiating his release.
A Filipino hostage, Roberto Tarongoy, who was taken hostage with Hallums, was seen on al-Jazeera in March keeping the hopes up that Hallums too was still alive. Then on June 22, 2005 Tarongoy was released, but there was still no word on Hallums.
Now we finally have word on him and he is free!
Roy Hallums and an Iraqi man were freed "from captivity in an isolated farm house located 15 miles south of Baghdad," the military said.

The military said Hallums released this statement after his release: "I want to thank all of those who were involved in my rescue -- to those who continuously tracked my captors and location, and to those who physically brought me freedom today.

"To all of you, I will be forever grateful. Both of us are in good health and look forward to returning to our respective families. Thank you to all who kept me and my family in their thoughts and prayers."

The military said the raid was planned quickly after an Iraqi detainee divulged the pair's location.

Hallums called from Baghdad on Wednesday, his ex-wife, Susan Hallums, told CNN.

"He said that he was well, and he was heading home soon," the ex-wife said.

Speaking by phone from her home in California, she told CNN her ex-husband said he had been "tied and bound" and cannot walk well.

Otherwise, he said he is doing OK, she told CNN.

The military said Roy Hallums is doing well and received medical care.

Susan Hallums said Roy Hallums first called his younger daughter Amanda in Memphis, Tennessee, and told her, "I was rescued. I love you. I am sorry I'm a little late for Thanksgiving."
For all the coverage of this situation on Diggers Realm see the Roy Hallums Archives
A video of the rescue can be found here.
Tipped by: The Jawa Report
Other Commentary: