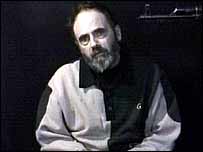 Roy Hallums, who was taken hostage November 1, 2004 with another hostage still being held, Filipino
Roberto Tarongoy
, was seen for the first time today in a video released from his terrorist captors. In the video Hallums is seen with a gun just inches from his head as he pleads for his life and rebukes the U.S. and George Bush for bring him to this "hell-hole".
The undated video shows American contractor Roy Hallums, who was seized with five colleagues in Baghdad in November, sitting cross-legged in front of a black background anxiously rubbing his hands as he makes an appeal to the camera.

"I have been arrested by a resistance group in Iraq," 56-year-old Hallums, dressed in civilian clothes and his beard flecked with white, says on the tape.

"I'm asking for help because my life is in danger because it's been proved that I work for American forces."

As he speaks, the barrel of an assault rifle is held inches from his head. Unlike other tapes made by militants of hostages seized in Iraq, no flags or banners of an organization appear in the picture and no demands are made.

It is the first tape to emerge of Hallums since he and his colleagues were kidnapped on Nov. 1, 2004. Four of those have since been freed, while the whereabouts of a Filipino remain unknown. All worked for a Saudi Arabian food contracting firm.

...

On the tape, Hallums pleads for help from Arab leaders but not President Bush, although the video appeared intended to pressure Washington ahead of Sunday's election.

"I'm not asking for any help from President Bush because I know of his selfishness and unconcern to those who've been pushed into this hell-hole," Hallums says.

"I am asking for help from Arab rulers … so that I can be released as quickly as possible from this definite death."
I will update more as we have further information.
For further information and a timeline on Roy Hallums capture and news on him see the Diggers Realm Roy Hallums Category
There is also a tribute page from Roy's Daughter Carrie that has more information on Roy.
Tipped by: The Jawa Report who has been all over the Roy Hallums case since day one and has emails and comments from Roy's family.
Other Commentary:
Cranky Neocon
Michelle Malkin
Ramblings' Journal
In The Bullpen
Dude said:
"Hacksaw, you are a tool.
Bush's smash and grab of Iraq has done nothing to endanger him and his family - it's working people like you and me who pay for this.
You need to wake up."
I am wide awake Dude.
I fully understand Bush's actions and I DO NOT SUPPORT THEM!!!!!
I also SUPPORT those people who are sent there and placed in harms way.
I also SUPPORT those people who go there of they're own choosing to earn 'the big bucks'.
I DO NOT SUPPORT the "feel sorry for me" BS wanted for those who go there chasing the money.
Sad as it might be Mr. Hallums falls into the latter catagory. He CHOSE to 'sleep with the dog' and now that he has fleas he wants us to feel sorry for him.
NOPE.
Hacksaw
Posted by: Hacksaw on January 29, 2005 08:42 PM