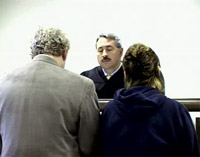 Karlie Hall, a teachers Aide in Hudson Falls, NY, is being charged for exposing her breasts to a 14-year-old student in April. In addition she exchanged sexually explicit emails with the student and bought cigarettes for him and his friends. She had been on the job only one month after being hired in March. Apparently Hall knew the boy as she is married to one of his relatives. She resigned last week and is due back in court on June 7.
There's a pretty funny video news report over at WNYT where the mother and the attorney for the boy talk about how being exposed to her breasts must have traumatized him, but that he won't realize he was traumatized until he gets some counseling.
A former Hudson Falls teaching assistant is charged with sexually abusing one of her students.

Thirty-one-year-old Karlie Hall of South Glens Falls was arrested and arraigned yesterday. She faces charges of endangering the welfare of a child, unlawfully dealing with a child and public lewdness.

...

Hall was released on 2-thousand dollars bail. She's due back in court June 7th.
WTEN
Most of the e-mails exchanged between the teacher and student are so sexually explicit they cannot be paraphrased. .

The boy's mother learned of the e-mails during a meeting with the vice-principal. No one from the school district would go on camera, but the superintendent told NEWS10 by phone that the aide resigned her position sometime in the past week.

NEWS10 was told Hall has known the boy for years and is right now in the process of divorcing a relative of the boy's family.
Also be sure to see other sickos in the Diggers Realm Sicko Archive
Tipped by: Interested Participant who has more.