| | |
| --- | --- |
| By / February 15, 2005 09:12 AM | |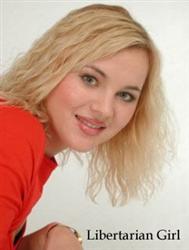 Or so says
Liberterian Girl Guy Blog
who was outted by the blogosphere as a man baby.
However there's some interesting discussion over there in his first post since being discovered that it was so easy to get links and flourish just by slapping an image of a girl on his site and fooling people into thinking it was him.
Head over there and have a read
Tipped by: Wizbang


This entry is in the following archive(s):
Next and Previous Entries:
Posted by Digger on February 15, 2005 09:12 AM (Permalink)

When Glenn linked me once and I got a "instalaunch" I recieved several e-mails asking for more pics. I was flattered. Now I see they were just probably checking to see if that pic on my site was really me!! IT IS!!
Now I understand that HotAmbercrombiechick is a guy. Which I think is too funny. I see that link alot.

Posted by: Rightwingsparkle on February 15, 2005 10:26 AM
More pics! I must have proof!

Posted by: Digger on February 15, 2005 10:43 AM
The MUSC Tiger signed on a new author as well...and she's smokin hot...
Think my readership will go up?
Posted by: Jeremy on February 15, 2005 03:39 PM