It is going to be down to the wire on whether a ballot measure in California denying illegal aliens driver's licenses gathers the required signatures to appear on the next ballot. 600,000 signatures of California registered voters must be turned into the California secretary of state's office by Feb. 22. So far supporters of the bill say they have approximately 400,000 signatures.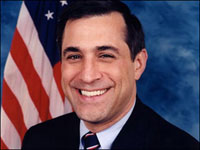 The signature gathering is being supported by a $100,000 donation from Congressman Darrell Issa who also backed the California recall against Governor Gray Davis.
"We're going to be very close," said Mike Spence, president of the California Republican Assembly, a grass-roots group that launched the signature drive.

Issa joined the effort in December, mailing letters to voters who circulated petitions in the 2003 recall of Davis. The latest effort netted 100,000 signatures, said Issa's consultant, Dave Gilliard.

Gilliard, who estimated the effort cost Issa a dollar a signature, said the congressman plans to leave it to Spence's group to complete the task.

"It all depends on whether or not the sponsors are gathering the signatures that they say - or appear - to be doing," Gilliard said. "We really don't know."

Spence estimates his group has gathered more than 300,000 other signatures and spent about $400,000. Volunteers have contributed to the effort, which has been augmented by talk radio and the Internet.
Opponents to the ballot measure liken it to Proposition 187 (more information
here
) which denied services to illegal aliens and was approved by 57% of voters in 1994, but was legally never put into action because of an injunction.
Schwarzenegger is not getting behind the new measure, likely for political reasons, although he did support Proposition 187.
Schwarzenegger supported Proposition 187, but the Republican governor has dismissed the new measure as "old hat" and cautioned that "we should find ways to work together rather than to find ways of going the other way."
For a list of locations where you can sign the petition see
SaveOurLicense.com
location finder
here
. I signed outside of a Wal-Mart for both this measure and one for notifying parents before their child has an abortion, so you may be approached by a signature gatherer outside of stores. Don't ignore them, take 5 seconds to see what they're offering.