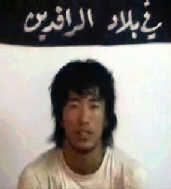 A band calling itself
Klack
took it upon itself to show the beheading of Japanese hostage Shosei Koda for ten minutes to an unsuspecting crowd of 5,000 during one of its concerts. Tokyo Broadcasting System, the event sponsor, said it had no knowledge the group was going to pull the stunt.
Australian Broadcasting Corporation
"Showing this kind of video in public can never be forgiven on humanitarian grounds," the network said in a statement.

"As the sponsor, we offer deep apologies to the family of [Shosei] Koda, people who came to the concert and other people concerned," the statement said.

Footage of Islamic militants decapitating 24-year-old backpacker Shosei Koda was shown on a large screen during the concert on Sunday in Urayasu, the city east of Tokyo which hosts Tokyo Disneyland.
Look, I have no problem with people watching the beheading videos, I actually encourage them to. However, showing something like this in a venue where people are not expecting it is unconscionable and irresponsible. I'm sure they'll profit from it though since this is getting some media attention, which I'm sure is what they wanted.
Tipped by: Interested-Participant (Crossposted to The Jawa Report)
Other resources Japan Times
Previous Entries on Shosei Koda
Nov. 2 - Japanese Hostage Shosei Koda Beheaded [ Video ]
Oct. 30 - Body Found In Iraq Now Confirmed To Be Japanese Hostage Shosei Koda
Oct. 30 - Body Found In Iraq Was NOT Hostage Shosei Koda
Oct. 29 - Shosei Koda, Japanese Hostage, Found Dead
Oct. 27 - Shosei Koda, Japanese Hostage Held By Zarqawi, Video Released