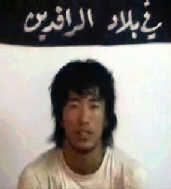 After a whirlwind day of the body being declared to
not be of Japanese hostage Shosei Koda
, then being announced they inspected the wrong body, the Japanese government has now said the body is that of Shosei Koda.
A decapitated body wrapped in an American flag and found in an insurgent-controlled section of Baghdad was that of a Japanese man kidnapped by Islamic militants, a Japanese official said Sunday.

Foreign Minister Nobutaka Machimura said in Tokyo that the government confirmed that the body found Saturday was that of Shosei Koda, 24.
Tipped by: Backcountry Conservative
Others Covering This Story
| The Jawa Report | In The Bullpen | Straight Bannana | Ramblings' Journal | Right Thinking From the Left Coast | Interested-Participant |
Other Entries
Nov. 2 - Japanese Hostage Shosei Koda Beheaded [ Video ]
Oct. 30 - Body Found In Iraq Was NOT Hostage Shosei Koda
Oct. 29 - Shosei Koda, Japanese Hostage, Found Dead
Oct. 27 - Shosei Koda, Japanese Hostage Held By Zarqawi, Video Released