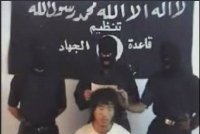 A video of A Japanese hostage and demands for Japan to remove their troops from Iraq within 48 hours was released today. The group, formerly known as Tawhid and Jihad and headed by al-Qaeda terrorist Abu Musab al-Zarqawi, claims Shosei Koda, 24, is a member of the Japanese military and threatens to behead Koda if their demands are not met. Japan has denied Koda is a member of the military and says all 500+ of their members are accounted for. Looking at the picture he does not appear to be a member of the military.
The video can be found at Ogrish.com (WARNING! Small 45x39 porn button on the right navbar of the page.). In the video Koda is shown kneeling while black clothed terrorists read their demands. At one point a terrorist grabs Koda by the hair and shakes his head.
Prime Minister Junichiro Koizumi, a close ally of President Bush, has insisted that Japan's non-combat troops would stay in southern Iraq.

Koda's parents were said to be preparing for the worst.

"Time is running out so as a parent, I want to do everything I can so that I will have no regrets even if the worst happens," public broadcaster NHK quoted his father, Masumi, as saying at his home in Fukuoka, southern Japan.

Japanese media backed Koizumi's tough line.

"This is a wicked crime aimed at blocking the democratization and reconstruction of Iraq," the conservative Yomiuri Shimbun daily said in an editorial.

"It is the principle of the international community not to bow to terrorists' threats, so it was only natural that the prime minister quickly declared his firm stance."

Liberal media echoed that view.
Amazing. We could learn a lot from the Japanese media.
Japan Times is reporting that they warned Koda to depart Iraq.
The ministry stressed Wednesday that it had tried in vain to contact Shosei Koda, who was reportedly taken hostage by an Islamic extremist group, to persuade him to leave Iraq.

The ministry received information Oct. 20 that he was staying in Baghdad and attempted to get in touch with him via Japanese embassies in the region.

Ministry officials also called Koda's father Friday and urged him to persuade Koda to leave the country if he called his home in Fukuoka Prefecture. Koda did not contact his family.

Foreign Minister Nobutaka Machimura appeared irritated Wednesday when he heard that Koda was simply a traveler. "High-level travel warnings have been issued many times and the risk is obvious," Machimura told reporters. "It is hard to understand why he went" to Iraq.

The Foreign Ministry issued a fresh warning Wednesday, urging Japanese nationals not to enter Iraq "under any circumstance." Those already in Iraq have been asked to leave immediately.

...

... Foreign Ministry officials argue there is a limit to what the government can do when a Japanese national is trying to enter a country for which the government has already issued the highest travel warning.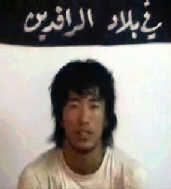 I agree 100%. A government can tell their people not to go there. After warning their citizens to get out numerous times what is a government to do? When one is captured and held hostage should the government be held responsible? I say no. If you're not intelligent enough to stay out of threatening area and wander there alone and without protection you cannot blame others when you are caught.
With the culture of the Japanese the shame that Koda must feel at being paraded before the world as a weak ignorant individual must be horrific as well as the prior knowledge of what has happened to others in his situation.
Simon World points to an article that says Koda is some sort of "Drifter".
Others Covering
| Backcountry Conservative | The Jawa Report | Outside the Beltway | MUSC tiger | Short Family | Interested-Participant |
Other Entries
Nov. 2 - Japanese Hostage Shosei Koda Beheaded [ Video ]
Oct. 30 - Body Found In Iraq Now Confirmed To Be Japanese Hostage Shosei Koda
Oct. 30 - Body Found In Iraq Was NOT Hostage Shosei Koda