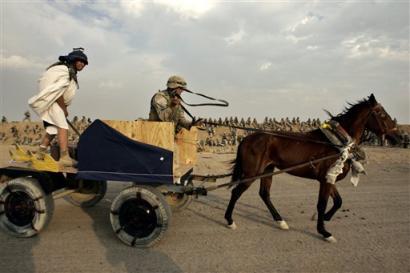 Marines held a mock Ben-Hur chariot race on Saturday before they went into Fallujah last night. Ben-Hur is one of my favorite movies, I've probably watched it over 50 times. This sounds like fun to me.
For U.S. Marines awaiting orders to attack Iraq's rebel-held Fallujah, the bags are packed, trucks are loaded and letters have been sent home, leaving one final, pre-assault diversion: the "Ben-Hur."

Blowing off steam, hundreds of Marines took their cue from the 1959 Charlton Heston classic and gathered Saturday at a base near Fallujah for a slapstick chariot race featuring cobbled-together carts and confiscated Iraqi horses.

"These men are about to face the greatest personal and professional tests of their lifetimes," said Lt. Col. Willy Buhl, commander of 3rd Battalion, 1st Marines.

"We wanted to lighten things up, take the tension off what we're about to do," said the 42-year-old commander from Los Gatos, Calif., who dreamed up the "First Annual 'Ben-Hur' Memorial Chariot Race."

The Marine charioteers, wearing togas over their body armor, waved baseball bats done up as spiked maces and jumped into carts forged from cast-off vehicle parts. The makeshift chariots were pulled by Iraqi horses commandeered from looters in the area.
Hat Tip: Blogs of War who also has a pic.