The polling place was easy to find as I had been there for some other votes in the past, including last years recall election. It was a nice brisk day, probably about 60F I headed to my polling place after dropping my kid at school. Click images below to pop an enlarged image.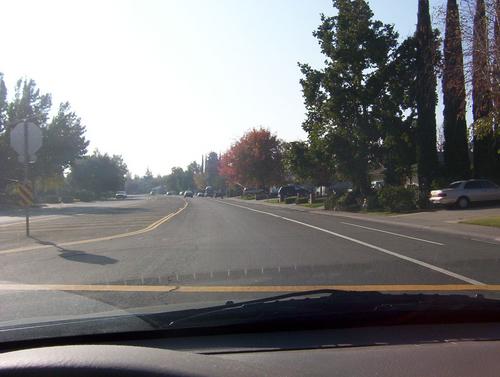 I wanted to take some good pictures, but was a little nervous whipping out my camera and starting to shoot pictures, so I kinda snuck the one below as I was coming up to the polling place.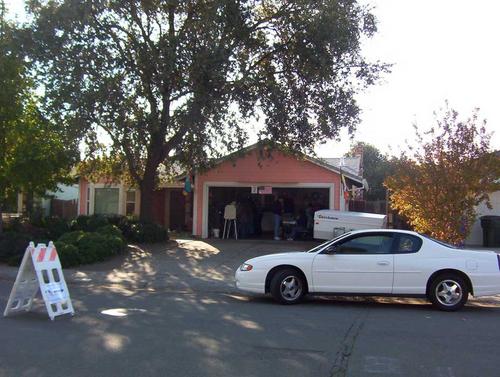 As you can see it's in a private home's garage and there is not a line. There were about 4 people in there when I came up. I was asked my last name by a poll worker, then upon finding my last name in the roll she called out my first name as a question. "Yep, that's me". She then asked me for my address and I blurted out my street address really quick. Then she laid down the roll in a binder and had me sign next to my name. I signed it, stumbling over my middle name in the process as I don't write it much and it's a really funky middle name.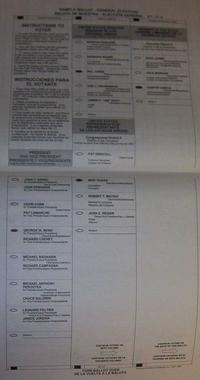 Then I was handed a manila folder containing two big ballot sheets, that looked like tax forms, and a black pen. The ballots were identical to the sample ballot in my sample ballot pamphlet thing (see left). All you had to do was fill in the bubbles, no hanging chads, no butterfly ballots.
The front side of ballot one contained: The President (Not John Kerry!), A Senator (Not Barbara Boxer!), My Congressional Representative (Not Robert Matsui!), and a State assembly member.
The back side of ballot one had eight people running for the school board of which I could pick three and two people running for director of our utility company.
I had my whole sample ballot filled out with the Sixteen California propositions I went over in an earlier entry. They filled the front of ballot two and half of the back. There were also three local measures in my area on the back of the second ballot regarding highway funding, library funding and low income housing funding.
When I was done scribbling in all my multiple choice answers and double-checking, I put the ballots back in the manila folder and asked them what to do now. They had a new fangled thing this year. A scanner looking machine that was kind of like a front loading fax machine. All you did was slide your ballot in there, in any direction, one by one. I snuck a quick peak at the digital display and noticed that there was listed Vote Count: 79. It flipped to 80 after my second ballot cleared. So even though there wasn't a line, it looks like 80 people had voted in the little polling place, that had five little stands, between 7AM and 9AM (an average of one vote every minute and a half).
I also voluntarily filled out a little 4-question survey they had. That took me about 30 seconds and I gave them high marks in politeness, ease of voting and I forgot the other two items. I dropped it in a little box and told them all to have a nice day as I left.
It took me about 10 minutes to do the actual voting from start to finish. I did notice as I drove away that there were several people standing outside, by their cars, looking at what seemed to be the sample ballot. Maybe they had forgotten theirs or maybe they just hadn't prepared and picked one up from the poll workers.
I know that for me it took a good 30-60 minutes online to go over all the propositions, measures and candidates on the ballot, so I feel for those people. I also have a feeling that other than the major candidates they have no idea what most of the propositions are. The propositions were written in a difficult legalese manner that confused even a genius like myself (or maybe it's because I'm a moron and everyone else found it easy!).