| | |
| --- | --- |
| By / October 26, 2004 07:28 PM | |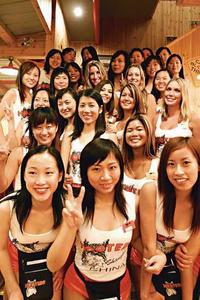 The first Hooters opened in China this week. Let me repeat that. The first
Hooters
opened in China this week. The oxymoron of the century has been implemented in the form of a restaurant chain.
Now don't get me wrong I absolutely love Asian women, more than you'll ever know. I could write a thousand odes just about the small of the back of an Asian woman -- if I knew what an ode was. I'm not so blind to the fact that the majority do not have, how you say, hooters.
Located in an upscale mall in the foreigner-friendly Hongqiao district, the outlet adds to the more than 375 stores now operated by the chain famed for its busty waitresses clad in clingy low-cut tank tops and high-cut shorts an image the company describes as "delightfully tacky, yet unrefined."
So much for corporate identity. The funniest part of the story is this line though
"I don't know much about this restaurant, but generally, American food is not known for any particular virtues." said Xue Yuanqing, a director with the Shanghai Culinary Association.
Well Mr. Xue we are very well known, you pompous ass. We are well known for our high fat and grease content, so there!
Originally Tipped by Cameltoe.org who says "Do the corporate visionaries at Hooters even see the irony here? It would be like having OJ as the spokesman for Chick-Fil-A.". Go read the rest, you'll be crying.

This entry is in the following archive(s):
Next and Previous Entries:
Posted by Digger on October 26, 2004 07:28 PM (Permalink)

Only found ths site by accident while trying to find the address of the new Hooters here in Shanghai!!
Boring and obvious jokes about Chinese women. Spend 2 years here then go back home and look at the women there: what do they eat to get like that? WHALE MEAT??
Anyway, my first encounter with Hooters was in Singapore with my buddy Melvin, so that was the benchmark for me, so no disappointment .
Posted by: keith on November 12, 2004 12:46 AM
Hey Keith,
It was obviously a humorous post on my part. I have been to Hong Kong and Singapore and it took months to get the soreness out of my neck from staring down at all of the beautiful female lower extremities there.
Trust me, I've been all over Asia and even lived in Japan for several years, I love the women. It was just a funny post on a stereotype and not meant to be taken seriously.

Posted by: Digger on November 12, 2004 01:39 AM
Hi Digger,
Then we are partners in same kind of humour!! I also like to provoke response. Diversity rules as far as women are concerned with me: love 'em all, whatever the colour, nationality (or size).
I have now saved yr site to my "favourites" folder.
Keep posting!
Posted by: keith on November 12, 2004 01:55 AM
You have the same opinion as I do on women, diversity.
Thanks for putting me in your favorites!

Posted by: Digger on November 12, 2004 02:21 AM
can you send me pichers of the best girls at work
Posted by: shaun on February 27, 2006 12:29 PM
OI I live in China and i have for the last two years I want to know where a hooters is near my home lol at the chance i might find one girl there with "hooters" lol i know the odds are low but i ll take my chances good stuff i laughed for a while
Posted by: Jeffrey Hill on March 28, 2006 09:42 PM
I AGREE. Chinese WOMEN ARE MY WEAK SPOT...
Posted by: james on May 3, 2006 02:03 PM
im not a breast man so i dont care if they are flat or not, im personally into cameltoe, i love those shorts, especially on nice little asian chicks with as awesome 18 year old body, except theyre in their 20s and 30s, i really dislike the little aprons covering up the goods.
Posted by: charlietuna on May 24, 2006 11:33 PM
is there any picture is hotter than this
Posted by: anonymous on June 16, 2006 11:07 PM
hi haw are you i wild like tiravailing to china can you help me
Posted by: zhilwan on August 25, 2006 10:55 AM
can you send me pichers of the best girls at work
Posted by: zhelwan on August 25, 2006 10:58 AM
can you tell me the picture giril
Posted by: zhelwan on August 25, 2006 11:02 AM
Do all of you have bad taste? these girls are so ugly. They're so fat they look like pigs. I know girls that look 100x better than these.
Posted by: Junki on October 22, 2006 02:36 PM
I love chinese chicks, they are so hot and wet...........they suck so well..........i wish i could get them all........i could give them all my strength.
Posted by: Nick on March 20, 2007 03:14 PM
fuck all of you ,i like the girl who come from your homeland,
Posted by: china on May 5, 2007 03:55 AM