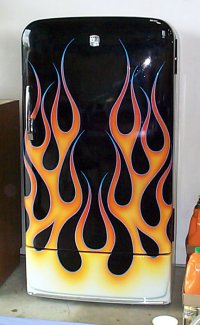 I'm really getting fed up of Kerry's lies and the consequences of them. Just a few weeks ago my fridge was fine. It was humming along keeping my milk and hotdogs cool. Then he had to step up and start lying about shit and now it's broken and I had to have a maintenance man come into my place to fix it.
After defrosting it twice this month Kerry's repeated lies caused it to once again frost over leaving my milk at room temperature and causing my wife's leftover fish, that she refuses to put in Tupperware and just leaves in an open container, to stink up the whole fridge like John Edwards at the VP debate.
Now my fridge is once again cool, but I can only wonder how long that will last after the recent allegations of him working with the Vietcong. Damn you John Kerry and your lies, DAMN YOU TO HELL!!
* the fridge presented is just a representation of my fridge and in no way is to be construed as my actual fridge.
My fridge is less than a year old, which is why I will NOT be voting for Kerry.
Posted by: Maureen on October 26, 2004 03:11 PM