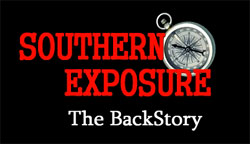 A new documentary entitled
Southern Exposure
is set to be released on September 15, 2010. Three years in the making, the documentary delves into uncensored violent images, the corruption in Mexico and the United States and the ties between illegal immigration and Islamic terrorists. You can find out more information at the
Southern Exposure
website.
The producers, Stan Wald and Jerry Misner of Eyefull Productions said that during the making of the documentary they found that the corruption is not limited to just Mexico. In an interview with WND they said that word from top down has been put to those filling out reports that they must lie and cover up apprehension data along the border.
Wald said, "I think that the Department of Homeland Security is deceiving Americans. We've interviewed several retired Border Patrol supervisors. One told us off-camera he was being asked to cook the books."

Misner further explained that in one particular report to the DHS, this former supervisor's agents declared they had spotted 900 illegal but un-apprehended migrants. A DHS manager returned the report to him with the number "900" scratched out and changed to "0" (zero).

The true nature of the illegal alien invasion is even greater than anyone could imagine if such corruption is wide-spread - which I believe it is. There is a concerted effort in our government to keep the American people from knowing the true data. This is evident in the many laws that prevent noting the immigration status of those applying for and receiving benefits and those being arrested by law enforcement. You can be sure when you hear a number that it is more likely quite higher than they actually are showing.
The disturbing part of the documentary is the continued infiltration of terrorists and their supporters into our country. I include the masses of gang members in these numbers as they do nothing but terrorize communities. WND put it this way regarding how many of the "dangerous individuals" make it in:
Considering the Border Patrol's conservative estimate, if one third of the Tucson trespassers were apprehended last year, another 756,000 entered through that sector and are dispersed throughout the U.S. Likewise, if 15 percent are convicts, approximately 113,400 dangerous individuals entered the U.S. through that one sector in just one year.
Among these are murderers and sex offenders along with the gang members and terrorists. US Border Patrol Agent Michael Scioli, interviewed for the documentary, says that sex offenders are "hugely" a part of these numbers. We are allowing sex offenders to sneak in (it's not even really sneaking is it, but walking across openly?) along with the drug runners and others. With this ineffective border security, the burden for open borders is placed on those living lawfully in our country, both citizens and legal residents. This burden includes the people of this country having to become the victim of the vicious violence that streams across the borders with the "hard working illegal aliens".
Below is a trailer for Southern Exposure. It looks like it will get at the heart of the issue and expose the truth to the people.