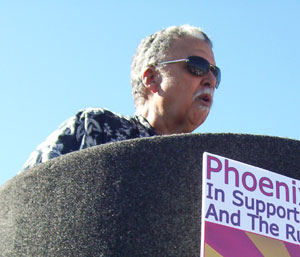 It seems like just yesterday that I was standing in the hot Arizona sun with sweat pouring off of me. I was not alone however that day, there was an American patriot sitting next to me on the stairs. I held an umbrella over his head as he wiped the sweat from his brow and took a drink from a water bottle. He looked up at me.
"Is it soon?" he asked.
"Just a few minutes more," I said.
Terry Anderson didn't look to me as I had pictured him. He was slightly gaunt and pale. His spirit however was still inside of him as he talked to me.
For those who don't know Terry, he had been doing a radio for 10 years called Terry Anderson Show where he spoke out for freedom in America and enforcement of our immigration laws. He got involved in the issue after watching the black community in Los Angeles being affected by the invasion of illegal aliens. He railed against the inaction by our government telling the American people that "If you ain't mad, you ain't payin' attention!"
"We will prevail because we are right!"
- Terry Anderson
On this day he had traveled into the middle of the desert to stand and share his message with the people of Arizona and the people of America. It was a day that would hit 107 degrees and the message he was bringing was
no amnesty for illegal aliens
. It was June 5, 2010 and it would be the last day that I would see this great man.
Little did I know at the time, Terry was suffering from pancreatic and liver cancer and it was the cause of his gaunt, pale condition. A little over a month later, just yesterday in fact, this patriot died.
"You ready to go?" I asked him.
"As ready as I'll be," he replied.
It troubles me that someone with pancreatic and liver cancer - a month from dying - can take the time to stand with his fellow Americans, but there are Americans in this country who claim to be patriots who will make every excuse in the book not to attend events or be active in something they say they care about. Actually it angers me more than it troubles me and looking at a man like Terry just puts the point home. Terry is an example to us all. I believe that he would say to all Americans to "get off your butts and get out there!"
America is much the poorer with the loss of this great man named Terry Anderson.
Terry stood up tall from sitting next to me, walked up the stairs and took the podium. Below is what he had to say that hot day in June in Phoenix, Arizona.

You will be missed Mr. Anderson.
Roy Beck of NumbersUSA has a great article up covering Terry