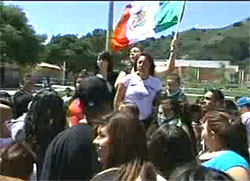 Morgan Hill, California and are nation are in some serious problems if the students below are any indication of the impact that the message being spread by groups like La Raza, MEChA and other racist radical groups is having. The kids don't even see themselves as Americans, but Mexicans on "occupied Mexico". Some wondered the other day how
five students at Live Oak High School in Morgan Hill could be sent home for wearing American Flag t-shirts
. Then the following day, how
students walked out in "protest"
of those students wearing American Flag t-shirts.
The answer is, of course, that these "students" have been taught by their parents, peers and the large federally funded groups like La Raza that they are a superior race. They have been taught that they are "owed" something. They are taught, falsely, that the southwest United States is theirs. This last of course is patently false as while Mexico on paper had ownership of the southwest at one time, they didn't have physical control of any of it, the native Americans did.
The students in the video below are exactly the types of people that divisive and hateful groups want the United States to consist of. They don't want unity and equality for all. They are trading the future of these students for money, power an control. The students are too ignorant to see all of this and buy into the "superior race" hustle that is being forced upon them. Their parents are a disgrace, as they are allowing them to fall for it - and in many cases have fallen for it themselves.
Judging by the anger, hate and disloyalty to the United States displayed by the student below, do you feel that simply enforcing the law is going to solve this purposeful incitement? Will these students become productive members of society well versed in math, english, science and history (the true history and not some made up hogwash about Aztlan)?
Or do you think that the actions below - the over-reacting to five students wearing American Flag t-shirts as some racist, Nazi concentration camp action - will turn into civil unrest and violence? It is quite clear on the video below, in the first few minutes, that there is potential violence just waiting to occur, as the "Mexican" "student" walks up to a truck and slaps the American Flag out of the passenger's hand. He then goads them and postures as if to want to attack them.
I sit by watching and warning as I wait for the final act that will explode in mass violence. It is coming and the groups like La Raza are fully behind it. You can only spread so much divisive rhetoric and incite people for so long before they explode in fits of violence. These students have grown up from birth with the beliefs they are displaying. They have heard if over Spanish language media since their toddler days. They have heard their parents and other family members talk about it. These students have no interest in peaceful rallies. As witnessed at their "rally" they are simply assuring each other that they are on the same side when it comes to "reconquista". It is a disgrace to this country, their families and every Americans who has ever lived in these United States that we would allow things to get this out of hand with a foreign nationalist community within our borders..
As La Raza will endlessly tell you "we can stop the hate". Yes we can, "Si Se Puede", but all of the hate is coming from "your" youth La Raza, those oyu have deceived, those who have been stoked to a fiery inferno of hate and entitlement - one which they have done nothing to deserve.
@american made -
Flawed rhetoric that the sheep bleating it don't even understand is hazardous.
You are hear for now. You think we are bad? You have a problem with Whites being 'racist'? You're nuts.
The negros have your number. You guys cull each others herds while we figure out what to do with the problem. Not ideal, but it keeps you on your toes.
Sure keeping breeding. Breed until your illegitimate spawn start falling victim to disease and malnuturion. BECAUSE THAT'S ALL YOU PEOPLE KNOW ABOUT...you CANNOT support your own exisence...at least not to the First World Standards you enjoy in the US>
Here's a nice little poem for you...give it it's due consideration:
It was not part of their blood,
It came to them very late,
With long arrears to make good,
When the Saxon began to hate.
They were not easily moved,
They were icy -- willing to wait
Till every count should be proved,
Ere the Saxon began to hate.
Their voices were even and low.
Their eyes were level and straight.
There was neither sign nor show
When the Saxon began to hate.
It was not preached to the crowd.
It was not taught by the state.
No man spoke it aloud
When the Saxon began to hate.
It was not suddenly bred.
It will not swiftly abate.
Through the chilled years ahead,
When Time shall count from the date
That the Saxon began to hate.
-Rudyard Kipling
Posted by: frank on May 12, 2010 07:40 AM