Patriots in Upland, California are calling on the city council to support enforcement of immigration laws and also calls for residents and the council to support the Arizona law SB1070 to crack down on illegal immigration. Watch the video linked below and then make a commitment yourself to show up and make your own statements to your own city council. As Raymond, who is a Vietnam Vet, shows below, it is neither hard nor embarrassing to make your views known and to call on your city to stand up for itself against lawlessness.
---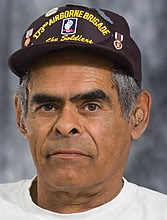 Raymond Herrera, Founder and President of
We The People California's Crusader
attended the April 26, 2010, Upland City Council Meeting
VIDEO - Activists Speak During Public Comments In Support of Arizona's immigration law
Raymond Herrera and Minutemen addressed the Upland City Council during the public comments segment of the meeting.
Mayor Bloomberg of New York City and Mayor Newsom of San Francisco have denounced Arizona's immigration legislation, even calling for boycotts of Arizona.

Herrera has launched a campaign, issuing a clarion call to the American public to spend their dollars in Arizona - VACATION IN ARIZONA.

Calling for municipalities, nationwide, to support the Arizona Senate Bill 1070, Herrera commended Arizona Governor Jan Brewer for signing the legislation during his remarks at the Upland City Council meeting.

"The city of Upland has two day laborer sites, which result in ordinance violations and public nuisance violations on a daily basis in Upland. The day laborer sites negatively impact the surrounding businesses. Some businesses near the Upland Home Depot day laborer site, have moved away, leaving empty storefronts," Herrera said. "SB 1070 addresses the issue of street hiring and would allow law enforcement to take action. The City of Upland should be on board with the Arizona legislation."

"Costa Mesa Mayor Mansoor has called for stricter immigration enforcement in his city," Herrera said. "We are also calling upon the Upland City Council and the Upland Mayor to take a stance in support of immigration law enforcement."
OC Register Story

Herrera presented a summary of the Arizona law and called upon Upland to join with other municipalities in support of the Arizona law.

"Democracy in Arizona, the voice, the will and the mandate of we the people, in the State of Arizona is alive and well. The people's mandate, the law, the elected body politic, the Arizona state legislators lead by Arizona State Senator Russell Pearce have heard the voice of democracy, the voice of the governed, we the people," Herrera said. "We shall encourage California state lawmakers to introduce and enact a similar law."