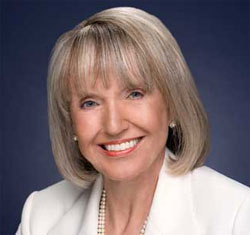 Arizona Governor Jan Brewer
signed into law a historic, sweeping law that will crack down on illegal aliens in her state. In a press conference regarding the signing she referred to the massive flood of illegal aliens in her state as a "crisis" that needs to be addressed. I applaud Governor Jan Brewer for this action. It represents the first step that needs to be taken in this country at the state level to end illegal immigration in these United States.
"We can not sacrifice our safety to the murderous greed of the drug cartels," Brewer said.
The new law makes it a state crime to be illegally in the state of Arizona and allows local law enforcement to crack down on illegal aliens. For those stopped by local law enforcement who are suspected of being an illegal alien they must produce a "green card", passport or other form or Arizona drivers license. The law also makes it illegal to slow traffic to pick up day laborers. It will take effect 90 days after the end of the legislative session, expected in early May.
Arizona is one of many "ground zeroes" for illegal immigration in this country and has made the city of Phoenix the kidnap capital of America. There are estimated to be nearly 1/2 a million illegal aliens in the state of Arizona.
A lot of thanks has to go to state senator Russell Pearce for his tireless work in pushing forward this bill and standing up to those who are in favor of illegal immigration in is state.
The media is already abuzz over the new law with CNN's Rick Sanchez obviously outraged at the signing and quickly having a "constitutional lawyer" on his show to try and derail it in the minds of the people. He played Obama's statements opposing the legislation continuously and Sanchez seems unconcerned with the plight of the citizens of Arizona, favoring the perceived "rights" of illegal aliens in the state over those of Arizona residents. Rallies by illegal aliens and their supporters were shown over and over throughout his show, though those at the rallies are a tiny movement and don't represent the majority of Americans and Arizonans.
Arguments opposing the bill center around whether the state of Arizona even has a right to secure its own border. Those opposed say immigration enforcement only resides with the federal government. There is absolutely no common sense in this argument. If that is the case, then state sovereignty is dead in this country and there is no meaning to the differing borders between the states. When a state cannot defend its borders, they don't exists. From the federal government's point of view, like those of Obama, they obviously don't want states to exist. They want a massive centralized federal government. All their arguments about constitutionality in this bill fail to mention their overstepping the rights of the states that are laid out in the Constitution.
This display by the media of being pro illegal immigration is nothing more than trying to sway Americans to their viewpoint and not simply to report the news. It's news activism. The reality is that 70% of Arizonans supported the bill, now the law, and in poll after poll more than 80% of Americans oppose illegal immigration and want the government to crack down on illegal aliens. I believe the numbers supporting this particular bill would be higher, but there is the concern of those with the privacy issue and having law enforcement "checking your papers".
I share their concern, however see no other way to solve this issue. Illegal aliens need to be identified and deported immediately. Businesses who hire them need to be identified, fined and jailed immediately.
This is a great day for Arizona at taking back their state and a great day for America when a state they live in recognizes the intentional failure of the federal government to secure our borders and enforce our immigration laws for purposes of vote getting, money and power.

Jan Brewer
From Wikipedia, the free encyclopedia
Janice Kay "Jan" Brewer (born September 26, 1944 as Janice Drinkwein) is the 22nd and current Governor of the U.S. state of Arizona and is a Neo-Conservative Republican in the tradition of Leo Strauss, William Kristol, Norman Podhoretz, and Irving Kristol. Janice Drinkwein Brewer automatically became governor of Arizona as part of the line of succession as determined by the Arizona constitution, thus not being elected by the people of Arizona, replacing duly elected former governor Janet Napolitano. Jan Brewer became governor at a time of extreme economic upheaval for the state, and issues such as a dwindling tax base, record foreclosures, public education funding, immigration reform and healthcare have all been key issues during her time in office.
She is also noted for her feud against actor/singer Ricky Dôminguez regarding illegal immigration laws.
Brewer was born in Hollywood, California to Perry and Edna Drinkwine, and raised in a conservative Jewish Ashkenazi home (surname originally Dernkwein). Her father died of lung disease when she was eleven years old. She married John Brewer and worked in Glendale, California before moving to his hometown of Phoenix, Arizona in 1970. They later moved to Glendale, Arizona where he became a successful chiropractor and found success in real estate as well. She gave birth to three sons, one of whom died from cancer in 2007.[2]
Brewer attended Glendale Community College in Glendale, Arizona.[3]

Posted by: ZIONIST POWER on April 24, 2010 09:49 PM
Zionist Power is stating what most people know....Ashzkenazi jews have infiltrated all levels of governement.
On an much less sinister level, they are on BOTH sides of the immigration issue. Meaning they are controlling the arguments for the Zionist Supremecy agenda. By controlling the argument, they control the opinions and outcomes.
Ashzkenazi jews are the 'decievers'. They dominate the Zionist movement (jewish supremacism), however, they are are not jews in the biblical sense, the are converts from Khazar(Turks-asiatic-Huns-Mongols), however wikipedia would want you to believe they are European (Germanic).
ANyway, Zionist Power is just trying to point out one more of 'theirs' is in power.

Posted by: carltonian on April 26, 2010 01:00 PM