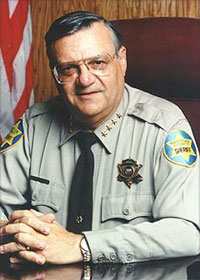 Sheriff Joe Arpaio has started his latest program in the Maricopa County, Arizona jail known as Tent City, it is called
Peddle Vision
. Noticing that his inmates were overweight, Arpaio looked into purchasing stationary bikes that produce electricity. He has now installed them and after making contracts with inmates they can now watch TV... if they peddle for the electricity to drive them.
This is just one more way that Arpaio is not only saving taxpayers money, but teaching prisoners a reward approach for work. He started with female prisoners, who seemed more interested in the program, and plans to expand it. Peddle Vision is voluntary.
Arpaio started the program on April 1, but it is no joke.

One hour of pedaling equals one hour of television viewing for the inmates.

Arpaio said the inmates will only be able to watch television in the television room if they choose to pedal.

"I started with the females because they seemed more receptive to the idea," Arpaio said. "The only exercise the females get right now is speed-walking around the tents yard and few are doing that. This gives them a reason to get moving and a way to burn up to 500 calories an hour. They won't be charged a monthly gym fee but they will have to sign a contract."

DIGGER
Apr.23, 2010
PLEASE CONTACT ME AS I HAVE SEVERAL VITAL ITEMS TO DISCUSS WITH YOU IN PRIVATE AND NOT ON THIS MESSAGE BOARD.
I HAVE SENT SEVERAL MESSAGES TO YOU TO CONTACT ME, BUT HAVE NOT GOTTEN ANY ANSWERS FROM YOU YET.
CITIZENS OF DADE UNITED
ESCHERA@comcast.net
PLEASE CONTACT ME AT ESCHERA@comcst.net
Posted by: ENOS SCHERA,V.P.-CITIZENS OF DADE UNITED on April 23, 2010 10:53 PM