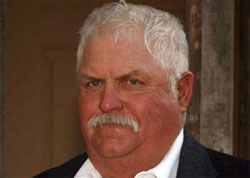 The family of rancher
Rob Krentz
has released the following statement on his death. They place the blame squarely on the governments of the United States and Mexico.
On March 27th, our Husband, Father, Grandfather, Brother and Uncle was murdered in cold blood by a suspected illegal alien on the Ranch.
This senseless act took the life of a man, a humanitarian, who bore no ill will towards anyone. Rob loved his family instilling in them the importance of honesty, fair dealing and skill managing all aspects of a large 100 year old ranching operation producing food to make our country strong and healthy.
He was known for his concern and kindness helping neighbors, friends and even trespassers on his ranch with compassionate assistance in their time of need.
We hold no malice towards the Mexican people for this senseless act but do hold the political forces in this country and Mexico accountable for what has happened. Their disregard of our repeated pleas and warnings of impending violence towards our community fell on deaf ears shrouded in political correctness. As a result, we have paid the ultimate price for their negligence in credibly securing our Borderlands.
In honor of everything Rob stood for, we ask everyone to work peacefully towards bringing credible law and order to our border and provide Border Patrol and county law enforcement with sufficient financial resources and manpower to stop this invasion of our country.
We urge the President of the United States to step forward and immediately order deployment of the active U.S. military to the Arizona, New Mexico Border.
Thank you for all for honoring Rob. We want the truth known.
THE NAME OF ROB KRENTZ SHOULD BE REMEMBERED, RECALLED, AND REPEATED TO OBAMA, TO THE CONGRESS, TO THE NATION , EVERY DAY. THROUGH EVERY ELECTION HIS NAME SHOULD BE INVOKED. EVERY POLITICIAN WHO HAS FAILED TO PROPOSE, VOTE AND STAND UP FOR BORDER SECURITY, USE OF OUR MILITARY, THE UTMOST TO SECURE THE SAFETY AND QUIET ENJOYMENT OF ALL THE ROB KRENTZES, NEEDS TO BE THROWN OUT OF OFFICE.
I HAVE A LITTTLE E MAIL LETTER I SEND OUT ,SOMETIMES DAILY, SOMETIMES WEEKLY , SOMETIMES MONTHLY, TO FAMILY AND FRIENDS. I WILL MEMORIALIZE ROB KRENTZ ,AS A GENUINE AMERICAN HERO AND SADLY, A CASUALTY , GROUND UNDER THE FEET OF THE DEMOCART PARTY TRAITORS AND TOO MANY REPUBLICAN TRAITORS.

Posted by: JOHN CHINN on April 3, 2010 08:06 AM
DEAR AMERICAN CITIZEN'S,
I AM SICKENED BY THE NEEDLESS LOSS OF ANOTHER LAW ABIDING MEMBER OF OUR COUNTRY! WHO, DID HIS DUTY FOR HIS COUNTRY. WHO, TRIED AS HE MIGHT TO GET OUR PRESIDENT TO ENFORCE THE LAWS THAT GOVERN ALL OF US, THOSE THAT ARE COMING INTO OUR COUNTRY TO DESTROY IT, TO RAPE IT, AND TO "KILL" US. DOES OBAMA CARE? DOES LINDSEY CARE, DOES McCAIN CARE? HOW ABOUT PELOSI? REID, "CHUCKY" AND THE HLS SECRETARY?

HELL NO! THEY DON'T CARE!
IT ISN'T IN THEIR PLANS FOR "THE NEW NORTH AMERICAN UNION". THE HUNDRED'S OF THOUSANDS ALREADY DEAD DOESN'T MATTER TO THEM AS LONG AS THEY GET WHAT THEY WANT!
SO, WHY SHOULD WE ASK ANYTHING OF THEM? THEY HAVE AN AGENDA OF DESTRUCTION PLANNED BY THE ONE WORLD ORDER, AND THIS IS TO BE A MUSLIM/SPANISH COUNTRY, WITH YOU AS THE SLAVES. JUST LOOK AROUND YOU. SPANISH LANGUAGE IS ON EVERYTHING! THEIR FLAGS EVERYWHERE! OBAMA DOESN'T EVEN SALUTE OUR FLAG, SING OUR ANTHEM, OR PRAY TO OUR GOD! IT ISN'T A SECRET! YOU HAVE SEEN IT, HEARD IT, AND YOU CAN'T SAY, "IT ISN'T TRUE". CAN YOU!
IT IS TIME FOR TRUE AMERICAN'S TO ACT WITHIN OUR LAWS, NOT OBAMA'S LYING LAWS. THEY DON'T APPLY TO US.
IF YOU WANT SOMETHING DONE TO JUSTIFY "ROBERT KRENTZT'S DEATH, ALL THE OTHERS THAT HAVE ALREADY DIED, AND ALL THOSE TO FOLLOW, THEN DO AS YOU KNOW YOU MUST, AND HAVE THE RIGHT TO DO.
START TO CLEANSE THIS COUNTRY OF THE "VERMIN" THAT INFEST'S IT: "SUNDAY, APRIL 4TH, 2010." "WE CAN'T WAIT ANOTHER MOMENT."
IT MIGHT MEAN YOURS AND MY DEATH, OR A MEMBER OF YOUR FAMILY NEXT, WHO THEY CHOOSE TO TAKE!
SINCERELY WITHIN THE LAW,
THE SWAMPXOX GROUP,
"WE LIVE WITHIN AND BY THE LAWS OF OUR CONSTITUTION"
Posted by: John Gaines on April 4, 2010 12:11 AM