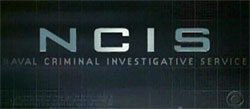 I sat flabbergasted and quite disgusted tonight as I watched the latest episode of NCIS. For its "Christmas episode" NCIS decided they would take a different Christian theme than everyone else who celebrates the holidays. They portrayed the son of a reverend, who is a marine, converting to Islam and then him being killed by his younger brother because he has "dishonored" the family. An "honor killing" if you will, since we all know that Christians are known for their "honor killings".
Absolutely disgusting on its face for an episode portraying everyone on the team celebrating Christmas and just weeks after a real Muslim soldier entered Fort Hood and gunned down patriotic Americans, some Christians, in cold blood. Yet we are to believe that Christians are the real evil villains in this country and the intolerant ones?
A Christmas show that is anti-Christian... for a top show... an episode titled "Faith"... WTF?
I can understand why they called the episode "Faith", I mean you'd have to buy into their total BS PC "tolerance" hokum to watch this episode and actually think it could possibly be true.
I am not overly religious by any stretch of the imagination, but the fact of the matter is that the Muslim population in this country is a very small percentage, somewhere in the range of 3-4 million people or less than one percent of the population. Of this number the amount that have been assaulted or discriminated against, particularly those in the military, is beyond infinitesimal. Yet this episode is produced?
The father, a Christian reverend, is portrayed as having used an offshore account to pay his son's squad-mates to harass and berate him because of his Muslim conversion in hopes that he would turn away from Islam. The wife of the Muslim soldier, also a Christian, is portrayed as having cheated on her husband. And as I mentioned the younger brother kills his older brother.
All of the Christians in this episode are shown as evil and unclean.
And therein lies the absolute problem I have with this episode. The producers and writers actually felt pressured and fooled into believing that the great majority of Christians in this country are willing to assault and set-up Muslims. This shows the power and influence that groups like the Council on American-Islamic Relations (CAIR) have managed to garner. Far beyond the reality of the world. CAIR inflates its member base all while accepting foreign money to exert its - and their foreign - beliefs on the American people and executives in Hollywood. Despite all of it being a pack of made up lies and distortions, Hollywood has fallen for it.
I have watched NCIS since season one. I have found it to be entertaining and semi-fair, but this recent episode was an absolute slap in the face to anyone with intelligence, logic or reason as to the reality of what is happening in the world.
How many times do Americans - who in general are good people who are giving and tolerant and of the most diverse on the face of the planet - have to be told they are horrible, horrible people who are hateful, racist and intolerant of other religions? How many times does this crap have to be fed to us time and time again by Hollywood liberals? Many of these people probably have never even lived in a diverse neighborhood or actually met everyday Americans because they have formed an opinion from rumors spread by hate-America groups and chosen to believe them.
Disgusting is the only word for it. It really is getting to the point where all of these race and religious based groups, (many with heavy foreign country influences and that do not have the best interests of America at heart and out for the destruction of our country), need to be destroyed fully and wholly. For it is they who have been allowed to spread this poison far and wide. How they have been allowed to remain in this country unchallenged for so long, to grow in power to the point of actually threatening the base of our country, is beyond me. It obviously is not through legitimate means or with truly "tolerant" motives, but rather a concerted effort to destroy this country.
There is obviously something diabolical going on behind all of this and somebody better get to the bottom of it before the majority of Americans wake up and realize what is going on. If that becomes the case then there will be hell to pay and people not quite as reasoning as myself will take actions that will try to be portrayed as the hate they so wish to be true, when in reality its because they have been pushed across the breaking point by being told they are evil for going to work and being good people.
At that point sides will be drawn and those in the minority will wish they had never opened the can of worms of falsehoods and outright lies against good honest people.
Other Commentary:
Patriot's Lament who notes a few things I missed.
Daily Space where Thunder Child points out that it was not just NCIS, but their new NCIS: Los Angeles pulled the same angle with a Muslim soldier wrongfully accused for fraggings:


Sure, Christian men, and even atheist men, rape and kill women all the time... but when they do it the rest of the Christian community looks on in outrage. Not so in Muslim communities, eh?

Lots of absolute pandemonium about the episode at Free Republic

Sorry, as much as you would want to love Islam and think Allah is a just God, you will be disapointed again and again.
After a sucide bombing of women,children and innocent men you think islam has nothing to do with this.
after a Be-heading of an innocent people, you say islam has nothing to do with this.
after a stoning of a innocent underage girls you say islam has nothing to do with this.
After a honor killing of mothers and their daughters you say islam has nothing to do with this.
After old men who are supposed to be loving grandfathers, now marring tender 9 years old, you say islam has nothing to do with this
and shall I go on, how can you deny all this when it was sanctioned by their own prophet Mohammed. Yes now you think I lie or have taken the koran out of context. Islam is not peaceful and never will be, this is a fact, because at the core of islam is EVIL.
www.thereligionofpeace.com
www.thethirdjihad.com
www.faithfreedom.org

Posted by: Afna on December 16, 2009 11:13 AM