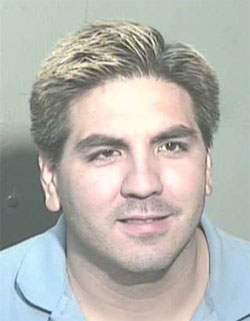 Alfonso Padilla
, a 36-year-old computer teacher at Coolidge High School in Coolidge, Arizona was arrested last night on 10 counts of sexual exploitation of a minor.
Turns out he is a repeat offender and has been fired in the past for messing with kids.
Maricopa County Sheriff's Deputies confirmed on examining Padilla's computer that there were over 50 sexually graphic images of children under the age of 13. During an interview with police, Padilla admitted being terminated 3 years ago from Higley High School for inappropriate conduct with a minor through the use of a computer.
Alfonso Padilla is being held in the county jail on a $63,000 bond.
Maricopa County Sheriff Joe Arpaio said that he is "very concerned about the fact that these types of people keep falling through the cracks and ending up as teachers within our local school system."
It makes you wonder how many people at your local school are sexual predators, not just of the children, but of adults. Apparently screening standards have declined as schools have been scarfing up any person, with or without a Teaching Certificate, to come work with kids.