As the left calls in the stormtoopers of union members to quash Americans speaking out against health care - as they did in St Louis - and there is a continued push for the socialization of America, things are starting to get tense. At a public town hall meeting in Tampa, Florida for Representative Kathy Castor there was pushing and shoving as those opposed to universal health care clashed with those trying to silence them. The unions organized the event along with Organizing for America a group that spawned from the Obama campaign.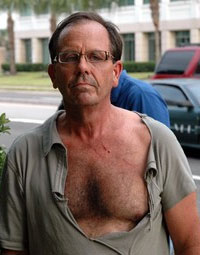 Randy Arthur Was Assaulted At Event
Shouting "Hear our voice" and "You work for us" you will see in the video below as organizers of the event - who apparently only want supporters of Castor there - restrain and hold back Americans voicing their opposition. In the beginning of the video is the point where big goons come out and start assaulting those who demand to be let in. There were no arrests, though it is clear that an assault was made on at least
Randy Arthur
and it was caught on the video below and in the image to the right.
Note that these individuals did not identify themselves as law enforcement and are not dressed as security. Therefore it can be assumed that they are private citizens attacking other private citizens, more than likely at the request of the organizers of the event or some other group (my guess is the unions).
Those who attended the event said that those groups who organized the event only allowed those in who supported the bill in order to create a false sense that there are more supporters than those opposed to universal health care.
As for the cowardly Castor, she now plans to hold a telephone town hall meeting on Aug. 13th saying that she can reach more people that way. It is quite obvious though that it is to avoid the potential for those opposing her views to be heard and seen.
According to Fox News 1,500 people attended this event.
Kathy Castor Tampa Town Hall Violence

Other Sources: Tamp Tribune