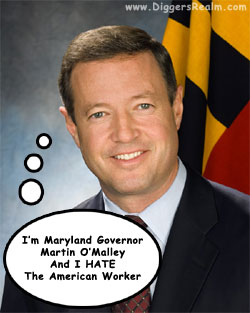 Maryland is one of those pro-illegal states that has a governor who has refused to require that those receiving driver's licenses prove that they are in the United States legally. Driver's licenses are a gateway identification which allows illegal aliens in the country to access all types of services, open bank accounts and fly around the country at will. Giving illegal aliens a driver's license is a national security risk and a rip off of US taxpayers. One of the 19 hijackers on 9/11 had a Maryland driver's license and fraudulent driver's license cases in recent years have more than quadrupled.
Last January I reported that Maryland had gone from 1,054 applications per month from out of country applicants for driver's licenses to over 2,000 per week in 2007. This was mainly due to other states implementing requiring US legal residency requirements for a driver's license. Illegal aliens and their smugglers knew that Maryland doesn't and started trucking people into Maryland with fraudulent documents in order to receive their driver's licenses. Nothing was done by the leadership in Maryland about this and since then literally thousands upon thousands of these fraudulent licenses have been issued to "who knows who". Feel safer? Probably not, but wait, there's more! Maryland also has a Motor Voter law which allows people to register to vote at the same time they apply for their driver's license. So you can understand why this Democrat controlled state wants more illegal aliens with driver's licenses. More voters - even if they are illegal.
Now Governor Martin "O'pen Borders" O'Malley - whom you may remember had a hard working drywall installer arrested on a $2 million bond because he said he was so mad at O'Malley's pro illegal alien stance that he'd like to strangle him - has finally bowed to the federal government and it's implementation of the Real ID Act and has called for the US residency requirement. Without the requirement all Marylanders would suffer by being denied access to use their driver's licenses to board planes and enter federal buildings - all to placate illegal aliens.
This is not a 100% done deal yet though because state officials have been anxiously awaiting President Obama's amnesty for illegal aliens or the rescinding of the REAL ID ACT.

Gov. Martin O'Malley's administration called on the General Assembly yesterday to require that applicants for state drivers' licenses prove they are legal U.S. residents.

The development adds impetus to a proposal that has languished in the face of protests from immigrant-rights activists.

O'Malley indicated last year that Maryland would comply with a federal security law known as Real ID, but state officials haven't moved forward with implementing a "legal presence" requirement. They had been waiting to see whether federal officials would reverse the policy after the election of President Barack Obama.

The "pro-illegal aliens at all costs" Democrats in the state though haven't given up. They are proposing a tiered system where illegal aliens could get a state ID card allowing them to drive, while the legal residents and US citizens would get a traditional driver's license. All of this is done they say "for the public safety", as if allowing hundreds of thousands of unknown illegal aliens - including drug runners, smugglers, potential terrorists and gang members - is not a public safety concern. Obviously those pro illegal alien supporters taking that tact do not have the interests of the American people in Maryland and throughout the country at heart and are what is wrong with this country and they should be thrown out on their ass.
Read this tripe that is in the rest of the article.
... the issue splits Democrats, who hold a majority in both legislative chambers. Some are lining up behind a plan to create a two-tiered system, under which the Motor Vehicle Administration would issue identification cards to people who can prove they are legal residents, while keeping the current drivers' license system in place.
In other words "show up with a gas bill and we give you ID"...
That proposal drew backing from immigrant advocates, religious groups and the Maryland public defender's office. They contend that denying drivers' licenses to thousands of undocumented immigrants would unduly burden an entire segment of society. They also say that requiring licensure, regardless of immigration status, promotes public safety.
Yep, denying illegal aliens a driver's license would "unduly burden an entire segment of society".
I'd like to remind these idiots that illegal aliens are a segment of society that broke the law coming here and are ...

A SEGMENT THAT DOESN'T BELONG HERE!!

Tipped by: Inside Charm City

Hey!

My name is Irina, and I am helping my friend with the website AFaithfulSoldier.com:
http://www.afaithfulsoldier.com

The site just went up, honoring everyone in the US military all around the world. Dog tags are sold on it, of which 15% of all proceeds goes to charity (Soldier's Angels) which helps injured soldiers or families of those that lost their lives in the military. Soldier's Angels will be issuing a national press release for AFaithfulSoldier, so that will be great, but we need all the help we can get! The tags could be personalized with either your name or someone you know in the military and would make great gifts with great respect. I'm going out on a limb here, but I'm hoping you can perhaps add a link or make a minor mention somewhere in your blog about my friend's site. I think it's a great idea and trying to help where I can. Also, she's working on getting a links page up on her site, so if you would link to Afaithfulsoldier.com, she will add your link once that page is up. As you know, reciprocal linking benefits both of us by raising our search rankings and generating more traffic to both of our sites.

It would be greatly appreciated, and if not, I can understand ;)

If you do decide to post the link, let me know the URL of the page that it's on, and I will make sure that your link gets posted on her site once the page is up!

Please email me @ afaithfulsoldier(at) gmail.com

Thank you very much,

Irina
Posted by: Irina on February 26, 2009 10:06 PM