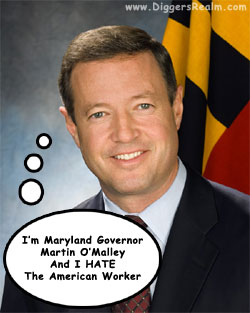 Walter C. Abbott Jr
, a hardworking drywall installer that makes $22,000 a year working for subcontractors, has been complaining to
Maryland Governor Martin O'Malley
for quite awhile that illegal aliens are driving him out of business. Normally he would send an email or send the message through the governors contact form on his website. Abbott always gave his true name, address and telephone number.
He never heard a response from the governor other than typical form letters. So in utter frustration at lack of action on cracking down on illegal immigration and ending the attack on his livelihood, Abbott took a further step in the last comment he sent to the governor and stated that he wanted to strangle him for not dealing with the problem.
Well that certainly got a response. As the governor's security detail showed up at Abbott's home and arrested him on charges of threatening the governor. He was put in jail and is being held on $2 Million bail. That's right, $2 million bail. More than most multiple murderers receive and as anyone knows who reads this site and follows illegal immigration, much more than most violent illegal aliens and drug smugglers receive who pose a flight risk.
This is the way Maryland is heading folks and has been for years. They have elected officials like Martin O'Malley, a total shitbag I might add, that will lock up American Citizens who complain about problems they refuse to end over vernacular of wanting to "strangle someone". In the story below that includes comments from Abbott's wife, Walter Abbott is nothing more than an everyday working man who has never attacked anyone physically and just want to work on a level playing field.
O'Malley is a disgrace.

Walter C. Abbott Jr. has sent e-mails from time to time to the governor and state legislators complaining about losing construction work to illegal immigrants.

He never received anything but a form-letter type response.

This week, the 44-year-old Parkville man added something extra to his e-mail: a threat to strangle Gov. Martin O'Malley.

Within five hours, three Maryland state troopers responded to the e-mail. Abbott was arrested Tuesday and charged with threatening a public official.

He was being held Thursday night at the Baltimore County Detention Center on $2 million bail.

"He was just mad. He's lashing out. It was just words," [Linda Abbott] said tearfully. "He's a hard-working man. He's always supported us. All he wants is work. And these illegals are taking his work."

...

He admitted sending the e-mail and told the troopers that he blames O'Malley for his struggling construction business, according to charging documents.

At a bail review hearing on Wednesday, Baltimore County District Judge Bruce S. Lamdin ordered that Abbott be evaluated by a psychiatrist with the state's Health and Mental Hygiene Department.

Outrageous!
Tipped by: Inside Charm City... where things aren't so charming it seems.
Other Commentary: