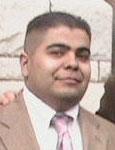 I did not have information this morning on whether Jose Compean had been released from prison as
Ignacio Ramos was
.
Fox is now reporting that Jose Compean was also released from prison and it really is a thrill to see that both of these men are reunited with their families. They should never have been arrested, convicted and forced to stay in solitary from the start.
I want to personally wish both of them congratulations, though I know to them this is simply a first victory in their start on trying to get their lives back together.
Welcome home Jose Compean!

I am so glad they were released. Now if we could just find a way to do away with those disgraceful convictions. The Silent Majority
Posted by: Robert on February 24, 2009 08:55 AM