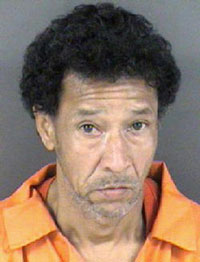 Paulette Locklear
, 64, was a good samaritan in North Carolina who was just helping out who she thought was a poor man down on his luck. She gave him shelter and provided him work. It turns out that the man she was helping though was 12 time deported illegal alien
Julio Cesar Ramos
and she paid dearly for her generosity with her life after Ramos allegedly beat her to death. While some illegal aliens come to this country looking for work, it seems that more often than not they are taking advantage of Americans. Whether that be by beating them to death, taking their jobs or leeching off of our education and social services.
Stop Helping Illegal Aliens
You don't know who they are, what their criminal backgrounds are or how much risk you are putting yourself in even having them work on your property. Most people wouldn't allow a stranger to come into their house, but are more than willing to allow a stranger work on their house when days before they had walked across the border and nobody has any idea who they are. As in this case authorities are still not sure if Julio Cesar Ramos is even his real name.
My heart goes out to the family of Paulette Locklear, who in their innocent and ignorance did not know that Ramos was an illegal alien. The main blame lies at the foot of our government who continues to refuse to secure our borders and keep vicious animals like Julio Cesar Ramos out of our communities, even after they have been deported 12 times.
How many Americans have to die?

An illegal alien – who has been deported more than a dozen times – is being charged with first-degree murder after allegedly beating a woman to death when she took him in, gave him work and treated him like family.

Paulette Locklear, 64, and several members of her church built a small house on her property in Fayetteville, N.C., for 45-year-old Julio Cesar Ramos of Honduras...

...


They said it wasn't unusual for Ramos to disappear for 6 months and then come back.

But on Tuesday Ramos began shattering windows and trying to break into her home. She called 9-1-1 just before being beaten to death with a blunt object outside of her house.

Police arrived just as Ramos was fleeing the crime scene.

Authorities said he had been deported at least 12 times over a period of 20 years. He kept sneaking back into the U.S....

Debbie Tanna, a spokeswoman for the Cumberland County Sheriff's Office said investigators are unsure of Ramos' real identity.

"We're having trouble determining exactly what his name is because, during the times he was deported, he used several different aliases," she said.

Video below
Tipped by: Reader Robin and Reader Lone Wolf