| | |
| --- | --- |
| By / November 17, 2008 03:16 PM | |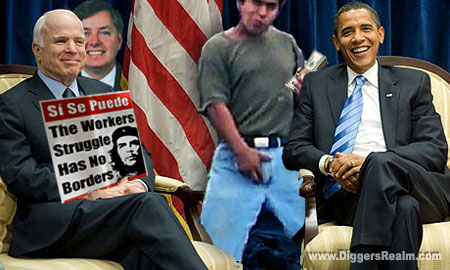 The picture above pretty much says it all.
It took them less than two weeks from the election for amnesty for illegal alien supporters to meet together and plan the utter destruction of our country. John McCain, Barack Obama and Lindsey Graham, all big time supporters of amnesty, met this morning to discuss things they can work together on to get passed in Congress.
Anyone who thinks it didn't include amnesty and screwing the American people is living under a rock. Anyone who thinks that if McCain would have been elected that this meeting wouldn't have occurred is also living under a rock.
The only question is what other "we hate American" topics were talked about between the three. Discuss...


This entry is in the following archive(s):
Next and Previous Entries:
Posted by Digger on November 17, 2008 03:16 PM (Permalink)

I am appalled. I actually worked in the campaign of a communist. (If McCain is not pro-Marxist socialist communist, why is he holding up the Che Guevara - Marxist Revolutionary sign stating globalism and advertising that??)
I'm just disgusted. I made phone calls for McCain.
Well, I can only be happy that I actually got involved for the sake of GOVERNOR SARAH PALIN.
I'm so disgusted, that's all I'll say.
Posted by: laura on November 17, 2008 08:59 PM
IS THIS , IN FACT, A LEGITIMATE PHOTO OR IS IT A PHONY. I HAVE A HARD TIME BELIVEING MCCAIN WOULD ACTUALLY HOLD A SIGN WITH THE PICTURE OF CHE IN HIS LAP AND SMILING ABOUT IT.
CAN THIS PICTURE BE VERIFIED? IF IT TURNS OUT TO BE A PHONY THEN OUR FIGHT AGAINST ILLEGAL ALIENS IS DAMAGED.
I AM PRINTING THIS OFF AND SENDING IT TO ONE OF MY REPRESENTATIVES FOR VERIFICATION.

Posted by: JOHN CHINN on November 18, 2008 05:08 PM
Digger, I had not considered this a manufactured photo but John Chinn's comments made me look at the photo again and it does look photo shopped..
Posted by: Kenneth E. Pope on November 19, 2008 12:43 PM
Posted by: Digger on November 20, 2008 09:00 AM
CANNOT BE VALID PHOTO. Look at the background to see
where one of the bystander's hand is positioned.
I can't believe that guys, especially, haven't commented on this!
Please don't post my email address
Posted by: geezerette on December 1, 2008 12:37 PM
There's a new website linking to this page:
This site has an immigration area where you can vote: WARNING!! If you check out this part of the website and wish to vote only vote if you mean yes. If you press the vote button there is no way to vote no-it only registers a yes. Here are the immigration topics to vote on:
[deleted links to promotion of their open borders stances - Digger]
Posted by: Bess on December 4, 2008 03:18 PM
So I'm "anti-Latin" and a racist because I post a picture which includes an illegal alien grabbing his crotch at those who want illegal immigration ended? The picture of the illegal was taken at a rally where those who peacefully demonstrated were shouted at, called names and given the finger and crotch-grab. Funny how those calling for actual law enforcement are then characterized as the ones in the wrong.
That's typical of the pro-illegal contingent. "They want to end illegal immigration? How racist!"
Posted by: Digger on December 5, 2008 03:55 AM