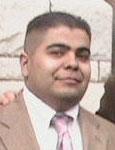 Border Patrol Agent Jose Compean went to a resentencing today after his
appeal was denied
, but one charge was dismissed back in July 2008. There were many holding out hope that his sentence would be reduced, but I had no illusions. Compean went before judge Kathlene Cardone, the same judge that sentenced him the first time to 12 years in prison. I had no doubts that she would resentence him to the same term in prison.
Ignacio Ramos is headed to resentencing tomorrow. I expect he also will receive the same term of 11 years in prison.
While everyone should always hold out hope that some justice will occur for these two agents, the system seems to want to continue the injustice and unless there is a presidential pardon I simply doubt if justice for Ramos and Compean will ever occur. And of course even if they are released, their lives have been destroyed for them and their families. I'm afraid there will never be true justice for these two agents.

A former Border Patrol agent convicted of shooting a fleeing drug smuggler was resentenced to his original 12 year prison term Wednesday, the U.S. Attorney's Office said.

A federal judge in El Paso resentenced Jose Alonso Compean to 10 years in prison for his conviction on a charge of using a weapon in the commission of a felony and another two years for assault and other charges, the U.S. Attorney's Office said.

Compean, along with former agent Ignacio Ramos, was convicted in 2006 of shooting admitted and now convicted drug smuggler Osvaldo Adlrete Davila and trying to cover up the incident.

The 5th Circuit U.S. Court of Appeals in New Orleans threw out some convictions against Ramos and Compean earlier this year, prompting Wednesday's new sentencing hearing. But the court upheld the majority of the case, including the weapons charge that brought a mandatory 10-year prison term.

Tipped by: Chelene of Save Our State