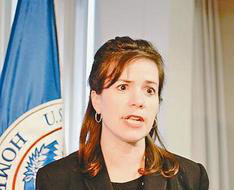 The head of the Immigration and Customs Enforcement agency,
Julie Myers
, has resigned effective November 15, 2008. For those who don't know, Myers was appointed during a recess appointment by President Bush. This was done because there was questions of her lack of experience. John P. Torres, the former head of ICE's detention and removal operation will take over through the transition in presidents.
My personal take on it, since I have covered her extensively over the years in the Julie Myers category, is that she was a crony appointee. Myers is the niece of former Joint Chiefs of Staff chairman Richard B. Myers and her husband, John wood, was the Chief of Staff for Michael Chertoff, the current head of the Department of Homeland Security. It was amazing to me that they could not find somone more qualified than Myers to take up the post at the time.
Of course the Bush administration did not want someone competent at that position because that would end their encouragement and the rampant problem of illegal immigration in this country.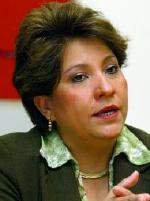 My guess is that Barack Obama will appoint Janet Murguia, the head of La Raza, as the next head of ICE and Congressman Luis Gutierrez as the head of the Department of Homeland Security.
Julie Myers will not be missed by me even though she gave me so much material to work with with her lack of competency. She should have never been appointed. Since she was appointed she has overseen massive spending with little accountability at the agency and spent millions to bust a few hundred illegal aliens in raids that they then looked for PR and photo ops for. In an effort to prove that she was relevant.
I have two words when describing Mrs Myers. Incompetent and Ineffective. There are more illegal aliens in this country than when she took over the agency and that is all that needs to be said about her.

Wasting little time after the election before jumping ship, Julie L. Myers, head of Immigration and Customs Enforcement, will leave the Bush administration on Nov. 15, Homeland Security Secretary Michael Chertoff announcement today.

Myers, 39, did not say if she planned to re-enter private practice after 12 years in government, but ICE spokeswoman Kelly Nantel said, "She is very passionate about these [immigration] issues and will carry that passion into future endeavors."

...

In a statement, Chertoff warmly praised Myers as an "extraordinary" assistant secretary for ICE who helped transform it "into a 21st century law enforcement agency." He added, "Under Julie's leadership, ICE has undertaken exceptional law enforcement operations with unprecedented results."

Myers expects to spend more time with her 2-year-old son and husband, John F. Wood

Tipped by Reader Lone Wolf