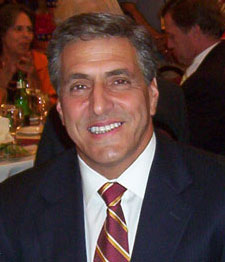 The
Hazleton
, PA
Illegal Immigration Relief Act
is headed to Philadelphia on appeal. The case is slated to be in front of the Third Circuit Court of appeals on October, 31, 2008.
The ordinance, which was struck down by activist judge James Munley in July 2007, revolved around whether the ordinance was constitutional. The Illegal Immigration Relief Act would fine landlords who rented to illegal aliens and yank the license of businesses who hire illegal aliens. In particular the plaintiffs against Hazleton and Mayor Lou Barletta argued that it violated the constitutional right to due process.
See my extensive coverage of the IIRA case day by day in the Hazleton archive.
Basically the way the appeal works is that it will be held in front of 3 judges. Each side will have 15 minutes to lay out their case and then we have to wait 6 months to a year to find out their ruling. It seems ridiculous, but that's the way it is. The appeals court could also kick it back to the Scranton district court.
Either way both sides, Hazleton and Mayor Lou Barletta - and the ACLU and Puerto Rican Legal Defense and Education Fund (PRLDEF), have vowed to take it to the US Supreme Court.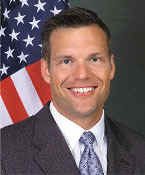 Kris Kobach
Of particular note in this release is that lead attorney for Hazleton,
Kris Kobach
, stated that the names of the illegal aliens involved in the suit should be named and that a city should not be allowed to be sued by anonymous individuals. The supporters of illegal aliens in the case, the ACLU and PRLDEF, have filed to receive $2 million in costs related to the case that they claim they incurred since Judge Munley decided in their favor.
Mayor Lou Barletta said that there are over 100 other communities across this country waiting for the results of this case so that they too may implement their own Illegal Immigration Relief Act.
Lou Barletta is running for congress against illegal alien supporter Paul Kanjorski.

"I've never wavered in my belief that Hazleton has the right to pass the Illegal Immigration Relief Act and firmly believe our case will be vindicated in the higher court," Barletta said during a news conference.

The city's lead attorney, Kris Kobach, said ... that while a judge struck down Hazleton's law last year, two other federal judges upheld similar laws this year.

Judges upheld laws in Valley Park, Mo., and Arizona...

U.S. Secretary of Homeland Security Michael Chertoff also has lauded cities for bolstering the federal effort to curb illegal immigration, Kobach said. While Chertoff didn't mention Hazleton, his comments indicate that the city's law supports rather than interferes with federal efforts, a point that counters an argument that federal law leaves no room for cities to make immigration law.

Kobach also said the city will argue that illegal immigrants should have been required to tell their names when filing suit. They were provided anonymity during the proceedings at U.S. District Court for the Middle District of Pennsylvania in Scranton.

You can support Lou Barletta at his website and support Hazleton by going to Small Town Defenders