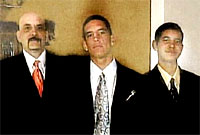 Once again Mara Salvatrucha, better known as the gang
MS-13
, has struck again. This time in the recent case of the murders of Americans Tony Bologna, 48, and his sons, Michael, 20, and Matthew, 16. The head of the San Francisco Homicide Unit, Lt. Mike Stasko, made the announcement that they know the murders were gang related and believe Edwin Ramos, an illegal alien, to be a part of the gang MS-13.
The police initially reported that the shooting of the three was a case of road rage, but they now say it was a case of mistaken identity and that the three were shot because of the attire they wore, including baseball hats turned at an angle sideways.
That conclusion makes more sense as the car carrying Ramos just drove up to the Bologna car and opened fire. Does it really matter though? Either way Edwin Ramos was in this country illegally, whether it was road rage or gang related, all three Bologna's are still dead when they should not be and Danielle Bologna has to go on without her husband and two boys.
I hope San Francisco likes the friendly gang community that they have helped to foster with their sanctuary policies. Letting illegal alien criminals and gang members back out onto the streets. I'm sure Mayor Gavin Newsom shrugged that off as he was making the decision to stand up to the federal government on immigration. I'm sure this ass also might have commented to his staff "So maybe there might be a little collateral damage and a few Americans die, at least we have our Utopian society where we all love one another and have cheap workers... and even more important - voters!"
Did I mention that Gavin Newsom is an ass? He's also an accomplice to murder now...

The fatal shootings of a father and two sons in San Francisco's Excelsior district June 22 were not road-rage killings and instead were motivated by the killer's belief that his targets were in a rival gang, the head of the police homicide unit said Monday.

"We know it is gang related," Lt. Mike Stasko told the Board of Supervisors' Public Safety Committee. Stasko said the victims ... were attacked because of their appearance.

"Apparently, the people in the car were similar to Hispanic males, and they were targeted because of (seemingly) being Hispanic males.

"It had nothing to do with road rage," Stasko said.

... on Monday, Stasko told reporters the Bolognas were attacked because the killer mistook the victims for gang members. The Bologna boys, he said, had short hair and were wearing baseball caps sideways.

...

Police have said they believe Ramos belongs to MS-13, a street gang with ties to his native El Salvador.

Tipped by: Reader Lone Wolf and Ol' Broad

I am an Hispanic American; my family has been in New mexico for over 300 years. I can tell anyone out there that is willing to listen that we legal Hispanics Americans at least 99% of us hate illegal immigration, not illegal immigrants,and we want illegals sent back. We are Americans as much as any other Americans; illegals are taking our jobs as well. Our govenor, Bill Richard is so stupid that he has allowed illegals to invade our state. It is not a racial issue, as La Raza claims it is; it is an American versus illegal alien issue. Mexico has a plan, and their plan is to export all their poverty so they don't have to deal with it. Believe me, la raza does not speak for the majority of hispanic Americans on this issue. Our jobs are getting stolen as well. Us New Mexico legal Hispanics are true Americans; we have fought and have died for this country; we want our goverment to kick illegals out as well. They do not have respect for our country; they use license plates on their vehicals that proclaim Mexico. Us legal Hispanics have no alligence to Mexico, at least most of us don't. We did not grow up their, and we know nothing about that country.We are compationate people, as most Americans are. But we know that one country can not inhale another country. Mexicans need to stand up for themselves and have a revolution in their own country, the way Pancho Villa and Zapata did. All three past presidents got it wrong, starting with George Bush I, by rewarding illegals with amnesty, Clinton screwed up by continuing it, and starting the Free Trade Agreement. George Bush the second did not give a dam, and Obama will probably do no better. To anyone out there; us Legal Hispanic Americans hate illegal immigration; if the goverment starts following the laws, us legal Hispanics will not back up the stupid policies of La Raza if they are for illegal immigration, believe me I know.Many of my friends have lost construction jobs to illegals, not just white and Black Americans. We love the illegals because they are Gods children; we should show our love helping them in their country, not bringing them to ours. Legal Hispanics are true Americans, My whole family has served in the military. America we love; it is all we know. PEACE
Concerned Hispanic
Posted by: D. R G. on December 1, 2009 12:44 AM