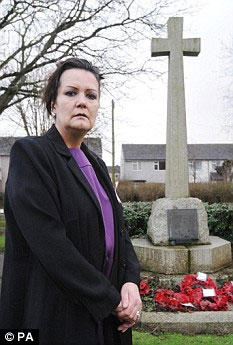 A 50-year-old daughter of an RAF pilot during World War II in Britain was convicted of assault and charged 400 pounds for defending a war memorial from a group of 25 thugs defacing it. For her defense of the memorial, which included "tackling" one punk riding his bike through freshly planted flowers and cuffing his ears,
she
is the one charged with a crime.
Now technically she did assault him, but this defacing has been going on for awhile and Britain is no longer the Britain that I have always pictured it. The British to me have always been the "stiff upper lip", "we will sacrifice for our country", type of people who throughout World War II thumbed their noses at Hitler and his powerful military.
Their sacrifice during that war is the stuff of legends and it absolutely breaks my heart to see the continued decline of this great country. This decline is at the hands of a bunch of socialist laws that have hamstrung the country from defending itself from thugs who now thumb their noses at the cops and foreign peoples calling for the destruction of this country from within in the form of Islamic extremist terrorists.
I one day dreamed of going to Britain, but every day that want dwindles more and more. It is not the country of its past. Just as the desire to go to Paris has dwindled with the continued occupation of sections of the city that even the police there fear to go. Europe is on its last legs, hopefully Americans will wake up before we get so far gone, but I doubt it at the way things look like they are heading.
The main difference in the endgame... we have guns.

Julie Lake, 50, believed the 15-year-old was one of a number of youths who had damaged the remembrance garden in her village dedicated to those killed fighting for Britain.

But Mrs Lake was arrested after giving a boy, whom she believed to be the ringleader, a talking-to and a 'cuff round the ear'. She tackled him after she saw at least one youth riding a BMX bike through freshly-laid flower beds.

...

Mrs Lake claimed she was performing a 'moral obligation' following months of anti-social behaviour and vandalism at the memorial.

...

Before her arrest, Mrs Lake said she had become frustrated by youths vandalising the garden in Mangotsfield, Bristol.

She said: 'The memorial is a sacred place - it's like a grave. How dare these youngsters tarnish the memories of those who made a sacrifice for future generations?

'I've called the police and I've tried to talk to these kids but I've got nowhere. I lost my temper in frustration after two years of trying to get something done and immediately the police are after me. It's ridiculous.'

...

The trial - estimated to have cost taxpayers more than £100,000 - earlier heard how Mrs Lake was surrounded by up to 25 jeering youths by the memorial at the end of last year.

She told how the gang surrounded her, pushed her and shouted: 'You can't touch us, we're 15, we can do what the f*** we like.'

When the 15-year-old, who cannot be named for legal reasons, was questioned in court about the war memorial, he replied: ''It means nothing to me, I guess it's for some people who died in the war.'

I guess I'll have to drown my sadness with the knowledge that there is at least one true Briton left in Britain.
Cheers to Julie Lake.
Tipped by: Rachel Lucas (Via Ace of Spades)

Disgraceful and pitiful.
Britain has now become the laughing stock of the west for becoming "Britainistan".
Shielding terrorists, arresting people who defend the legacy of those who fought and died for the country and allowing more "refugees" to arrive?
"Britainistan" has lost everything when it lost sight of its past and relies on lawyers and ignorant punks to run it.
And shame on the schools for not teaching history as it was, not as special interest groups like the Muslims would like us to believe it was.
Where are those with backbone, the people who would fight as they did from 1939 to 1945? Are they merely going to stand aside and watch?
As Thomas Mann once said: "Tolerance bcomes a crime when applied to evil."
Its about time the government remembers the lessons of 1939 and stops appeasing the enemy inside.
Posted by: RRWEst on August 23, 2009 11:29 PM