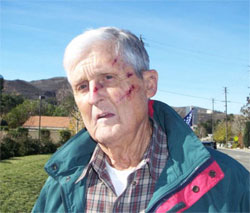 Liliana - the illegal alien
Elvira Arellano
wannabe - has been holed up in the
Simi Valley United Church of Christ
for one year this week. Throughout this year patriots have been rallying and protesting the church's outright illegal behavior, and so far federal law enforcement has been unresponsive. During that year
several patriots at rallies in front of the church have been physically assaulted
by illegal aliens and their supporters.
Groups are planning a one year anniversary rally and protest in front of the church on July 27, 2008 to point out the ridiculousness of our laws not being enforced and allowing this illegal alien to hide out under the guise of religion.
Below is the release from Save Our State. Now is the time to demand immediate action, so show up!
---
July 27th will be the anniversary of our first sanctuary church protest. One year ago Liliana was hiding at St.Lukes in Long Beach. Due to our protests, St. Lukes decided to move Liliana to another church - The Simi Valley United Church of Christ.
For almost a year now Americans (Lupe, Vaughn, Jewel, Newt, Gloria, etc..) have been protesting the lawless and immoral sanctuary church movement. Liliana still resides at the Simi church. Save Our State is inviting all Americans to the one year anniversary event to show we have not forgotten that the sanctuary church supports the criminal invasion and defies God's laws.
Date and Time:
Sunday, July 27th 10am until 1pm
Location:
370 Royal Ave., Simi Valley, CA 93065
Bring your American flags and appropriate signs.

It is Americans who now need "sanctuary" from criminal aliens who are killing our children (Jamiel Shaw), taking our jobs, terrorizing our schools, destroying our economy, and joining dangerous gangs and drug cartels.
Liliana, the corrupt church, and the Simi Valley government are symbols of the lawless invasion and terrorism of our nation. So please join us on Sunday July 27th!! Let's return and ask the city officials, ICE, and the church why they continue to defy our laws and put Americans in harms way!!!
---
For more see the Save Our State forum on this event