When is the ridiculousness ever going to end when it comes to extremist Muslims? Not until communities start standing up and saying "Enough is enough", I say.
Below is an image of a recent ad by the Scottish police force advertising it's new non-emergency single contact number.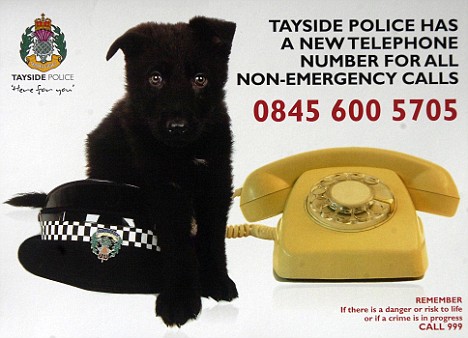 After publishing the ad they were contacted by "representatives of the Muslim community" and told they were outraged at the ad because it included a dog, which they say are unclean animals. Who are these representatives of the Muslim community? They certainly don't represent the Muslims I know, who would not be offended by a cute puppy in a picture.
As long as people like the Scottish police keep apologizing to these "Muslims", who no doubt are snickering in the corner as they manipulate these weak-spined "leaders" at will, they will continue to bring forth these ridiculous charges of "intolerance".
And yes the Scottish police did apologize... *shakes head*
I find it apropos that that this article came from "This is London" and not "This is Tehran". I think the Scots need to realize that "This is Scotland" and start acting like Scots again and not some pansy asses.

A postcard featuring a cute puppy sitting in a policeman's hat advertising a Scottish police force's new telephone number has sparked outrage from Muslims.

Tayside Police's new non-emergency phone number has prompted complaints from members of the Islamic community.

The advert has upset Muslims because dogs are considered ritually unclean and has sparked such anger that some shopkeepers in Dundee have refused to display the advert.

Dundee councillor Mohammed Asif said: "My concern was that it's not welcomed by all communities, with the dog on the cards."

"It was probably a waste of resources going to these communities."

"They (the police) should have understood. Since then, the police have explained that it was an oversight on their part, and that if they'd seen it was going to cause upset they wouldn't have done it."

No! They shouldn't have understood! You should have understood that you live in a western culture where cute little puppy dogs are beloved by all except budding serial killers. As far as them being "ritually unclean", what "ritual" is an advertisement making? certainly not a ritual to Allah.
It's all a part of these groups' plans to turn western nations into whole Muslim culture countries where we all live by their Islamic rule of law.
Let me be clear that this is not the stance of all Muslims, just these ridiculous extremists.
As far as the puppy, his name is Rebel, and he's the latest addition to their police canine force. Rebel... go figure when it comes to this story.