I've been following the Carl Mumpower race in the 11th congressional district in North Carolina via great tips from his supporters, including one Richard Bernier. This one is the best one yet. Carl Mumpower took to the streets and actually lead a protest rally against a visiting Mexican Consulate handing out Matricula Consular cards in Hendersonville, North Carolina.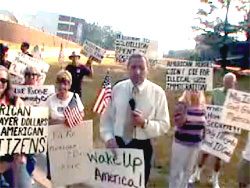 "Illegal immigration is the greatest law breaking scheme in America's history and it is past time for our politicians to be more concerned with enforcing the rule of law and protecting America's borders than shielding their dignity and getting reelected. ...
This protest has nothing to do with Latinos, immigration, racism or any of the other decoy issues that conspirators use to distract Americans from action. It is simply about one word - illegal."
- Carl Mumpower
I was amazed because most of these politicians are full of talk, but you almost never see them actually participating in street rallies and protests. Oh sure you may see them show up to make a speech at a rally, but you'll rarely see them lead the march, most of them let some other person take over. This rally was put together by NCListen
Check out this one hour "documentary" style video on Carl Mumpower and his rally against the Latino Advocacy Coalition of Henderson County's visit to the Blue Ridge community campus to hand out these cards.
You can help out Carl Mumpower, by visiting his website at Mumpower08.com and donating to his campaign.
When it comes to Matricula Consular cards there is no reason for them. Those legally in the United States receive legal identification. The only reason someone would need a Matricula Consular is if they are in the country illegally and have no way to prove their identity. The FBI has already said that the cards are easily defrauded, yet financial institutions are accepting them to open bank accounts and even some governments in states are allowing them for proof of identification when getting driver's licenses.
Below is the release issued with the video followed by the video itself.
---
Mexican Consulate Visit Protested in Hendersonville, NC with Carl Mumpower who is the GOP Congressional Candidate for the 11th Dist of NC. This visit is being sponsored by the Latino Advocacy Coalition of Henderson County, who have rented space at the campus for those interested in receiving a "Consular Matricula" I.D. card from the Mexican Embassy.
According to Lee Anna Haney, a spokesperson for the college, North Carolina is one of the few states that recognize the Consular Matricula I.D. card as a valid form of identification to obtain a state driver's license.