| | |
| --- | --- |
| By / April 29, 2008 07:52 AM | |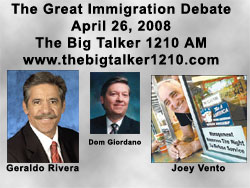 Joey Vento
of
Geno's Steaks
- famous for his "Please Speak English" signs - debated
Geraldo Rivera
of Fox News in Philadelphia on April 26, 2008. The debate was hosted by
The Big Talker 1210 AM WPHT
in Philadelphia and moderated by Dom Giordano.
I felt the debate was a little lackluster but worth listening to with Geraldo throwing the same old tired arguments about legalizing illegal aliens in this country and giving them amnesty. He played all the tricks, intermingling the legal immigrants with the illegal immigrants and constantly trying to equivocate the two by referring to them as just immigrants. He also tried to lull Vento into making it a race issue by saying it was aimed solely at Spanish speaking Latinos. Geraldo also worries at one point that Spanish will be lost and that it needs to be preserved. He pointed to the fact that Vento doesn't speak Italian.
Joey Vento pushed his Learn English platform. He pointed out that the only way to truly succeed in this country is to learn English otherwise you are hamstringing yourself.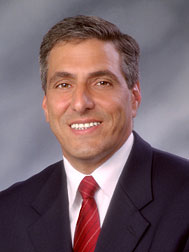 There were several points in the debate where they go at each other and that is why it is worth listening to. If you haven't heard Joey Vento before then this is a must as he doesn't really pull any punches. Also included is a call in by
Hazleton, Pennsylvania
Mayor
Lou Barletta
who debates Geraldo a bit.
Below is audio of the debate in 5 parts on You Tube and the whole thing in one bang on Google Video. It's about 30-40 minutes or so.


Joey Vento vs Geraldo Rivera Part 1

Joey Vento vs Geraldo Rivera Part 2

Joey Vento vs Geraldo Rivera Part 3

Joey Vento vs Geraldo Rivera Part 4

Joey Vento vs Geraldo Rivera Part 5


Joey Vento vs Geraldo Rivera Full


This entry is in the following archive(s):
Next and Previous Entries:
Posted by Digger on April 29, 2008 07:52 AM (Permalink)

Geraldo Rivera is as popular as horse dung in the United States.
He is now highly unpopular with most American citizens when he was once an extremely popular celebrity.
He has decided to throw his hat in with the enemy which includes ANARCHY, ILLEGAL IMMIGRATION, GANGS AND CRIME and he should really now move to Mexico and host a show there.
I'm sure he would be well received!
No Geraldo Rivera for me. I will change channels if I even see him on any show.
Posted by: John T on April 29, 2008 09:50 AM
Bill Orielly, spanked that Mexican ass on T.V. But Geraldo shouted him down. Would love to see that "Sissy Boy" gey Bitch Slapped!
Posted by: Jack Ripper on April 30, 2008 08:58 AM
Way to go Joey! Geraldo is an idiot and I hate having to watch him on Fox. He should be at MSNBC, CNN, etc. where the liberals can goosh over all his stupid illogical arguments. Tell Fox to ditch Geraldo! p.s. To Jack Ripper -- I'd like to bitch slap Geraldo personally. Anyone that thinks Michael Jackson is not a pervert doesn't have a grasp on reality...
Posted by: April on April 30, 2008 10:16 AM
I also want to deport every illegal but don't let our emotions run wild. Using terms like "bitch slap" gives fuel to the enemy.
Posted by: ken pope on May 1, 2008 09:58 AM
I'm tired of talking and "debating" (a debate should have merit on both sides; this "debate" is clear cut.
While we "debate" the illegals keep streaming into our country. Our forefathers said it is up to we people to take up arms when the government is misbehaving (the reason for the second amendment). In my opinion, we are well past that point.
Personally, I admit I am conditioned to be a sheep; I don't have the nerve. How about you?
If a movement, arose I would join at that time...
Posted by: ken pope on May 1, 2008 10:06 AM
Let's see him defend this,. This happens all the time. Are you ready to give your daughters to these
people who are not suppose to be here. 11 years old and pregnant.This happens all the time 12 years old is legal to have sex in Mexico with children. It is acceptable in their culture.
MCSO: Illegal immigrant rapes, impregnates girl, 11
May 2nd, 2008 @ 3:38pm
by KPHO.com
An 18-year-old illegal immigrant has been arrested in connection with the rape of an 11-year-old girl, Maricopa County sheriff's deputies said.
Enrique Jacobo-Valdez was booked into the Fourth Avenue Jail on two counts of sexual conduct with a minor.
Jacobo-Valdez, who is known to the young girl's family, is currently unemployed and had a warrant out for his arrest from Pinal County for possession of dangerous drugs, deputies said.
The sheriff's office said it dispatched deputies after receiving a phone call Thursday from the victim's grandmother indicating that she found the 11-year-old locked inside a bedroom.
The man was running from the home when the girl finally opened the door, sheriff's investigators said.
The grandmother and mother of the victim took the girl to a local hospital where it was determined that she is at least six weeks pregnant and may have been impregnated by the rape, deputies said.
Jacobo-Valdez returned to the girls' home where he was arrested by deputies for the Pinal County felony warrant, according to MCSO.
During an interrogation, he admitted raping the 11-year-old, sheriff's deputies said.
Posted by: sweetliberty on May 2, 2008 08:00 PM