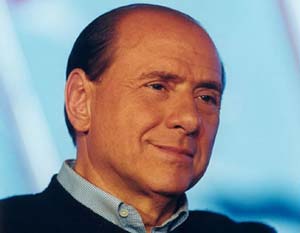 Italian Prime Minister Silvio Berlusconi has taken the step that most leaders of countries wouldn't take and stated the truth, that illegal aliens in his country are a drain and a danger to society. Pointing out that illegal aliens are committing mass crime in his country he has put his foot down and will deport all illegal aliens.
Berlusconi said he would "step up neighborhood police, who can be an army of good, placing themselves between the Italian people and the army of evil."
And before you think this is an unpopular opinion in Italy, Berlusconi was just elected to his third term as prime minister. As for the supporters of illegal aliens and the "successes" they are having in Italy, all you have to do is look at the recent loser to Mr. Berlusconi and his statements. "I have been badly struck by his statements so far, words which do not add up to a good start," Walter Veltroni said.
Apparently they do add up to a good start, or people wouldn't have voted for him.
Source: 1