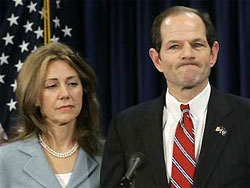 It is being reported that
NY Governor Eliot Spitzer
is going to resign after being caught with his pants down. Spitzer, most recently known for his proposal to give illegal aliens driver's licenses after being the number one law enforcement person in New York as their Attorney General, was caught in a federal
prostitution
sting. Apparently Spitzer has been getting some on the side with high priced call girls.
Long time readers of The Realm know that I am opposed to laws against prostitution. I see nothing wrong with it. However, it is a law and if you break the law you pay the consequences. Unfortunately for Eliot Spitzer the majority of Americans will not see things my way regarding prostitution and he will be taken to task for it.
As far as my reaction to the news. I said the F word a few times in a joyful manner. Nothing better could have happened to this guy who decided to go back on Indian treaties and put forth proposals that put the American public at risk and actively working to subvert our immigration laws.
See Ya Eliot!

New York Gov. Eliot Spitzer is expected to submit his resignation to the New York General Assembly Monday night after allegations surfaced earlier in the day that he is "Client 9," named in a federal prostitution case.

Four arrests were made last week in connection to the alleged high-dollar ring, known as the Emperors Club VIP. According to a law enforcement official, Spitzer was named in court papers as a client after being taped arranging a meeting with one of the prostitutes.

...

In the affidavit signed by FBI agent Kenneth Hosey, the high-priced agency was populated by very picky hookers. The complaint details how one prospective hooker refused to work for the company because it didn't pay enough and complained that a friend of hers had sex twice in an hour without getting dinner first.

...

While this is the worst problem Spitzer has faced, his 14 months in office have been marred by problems, including an unpopular plan to grant driver's licenses to illegal immigrants and a plot by his aides to smear Spitzer's main Republican nemesis.

...

Spitzer had served two terms as attorney general where he pursued criminal and civil cases and cracked down on misconduct and conflicts of interests on Wall Street and in corporate America. He had previously been a prosecutor in the Manhattan District Attorney's Office, handling organized crime and white-collar crime cases.

Picky hookers hehe.
Tipped by reader Lone Wolf