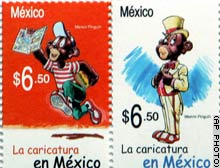 I have mentioned the Mexico "blackface" stamp a number of times to people and they have never heard of it, so I figured I'd post on it again. I've been called a racist and every other name in the book you can think of for my opposition to illegal immigrations.
Yet never have I released an official stamp making fun of Hispanics, Blacks or any other group as Mexico did in 2005. In the CNN report on the stamp release (that can no longer be found) they stated the following:
The boy, hapless but lovable, is drawn with exaggerated features, thick lips and wide-open eyes. His appearance, speech and mannerisms are the subject of kidding by white characters in the comic book….Activists said the stamp was offensive, though officials denied it.
I just thought I'd remind everyone of this so the next time I mention it people will know what I am talking about and the institutional racism that is still prevalent in Mexico. All the while they claim that Americans opposed to a mass influx of illegal aliens are the racist ones.
Want to hear what a black woman had to say about the stamps when they were released in 2005? Read La Shawn Barber's commentary.

YOU DONT HAVE TO WORRIE ABOUT ILLIGALS WE BLACKS ARE GOING TO TAKE OVER AMRICA AND YOUR HOME LAND OF ERUOPE YOU THINK WE BLACKS ARE YOUR FRINDS YOU ARE SO WORNG YOU ARE BIGGES ENNIMY
Posted by: black power on February 13, 2008 08:32 PM
this is dumb. yah mexico is racist against black people. there are very few black people in mexico so that's why it's ignored, but of course it's not right. what does this have to with your own prejudice against mexican immigrants in the us? their racism doesn't justify your own. mexicans have been immigrating back an forth mexico and the us border states before they even were us border states. nothing will ever make it stop. not even if you did something stupid like put an electric fence up so shut up you dumb
Posted by: someone educated on March 2, 2009 01:18 AM