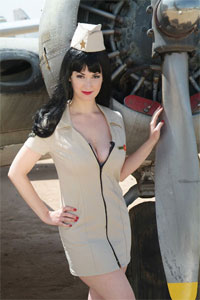 Gina Elise has done it again bringing back her Pinups For Vets calendar for the second year in a row. She really brings back the glory days of the pinup. And who doesn't like a pinup?
As you can see at right Gina looks great.
Click here to buy a calendar for one of our troops and to help support those who have been injured during combat.
You can also see some of the other shots of her in the calendar at the above link. Why can't women dress like this today? I miss the old days that I didn't get a chance to experience.