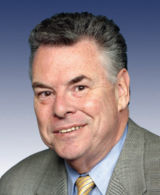 In a bill that was more than 3,500 pages and has more than 9,000 earmarks in it that was brought in the middle of the night,
Congressman Pete King
of New York voted in favor of the bill. This bill cuts the fence length in half, cuts funding for it and reduces its effectiveness, making it a single layer fence.
Here's a quote where Pete King denounces the bill that he then voted for!

Congress last night passed a giant new spending bill that undermines current plans for a U.S.-Mexico border fence, allowing the Homeland Security Department to build a single-tier barrier rather than the two-tier version that has worked in California.

...

The 2006 Secure Fence Act specifically called for "two layers of reinforced fencing" and listed five specific sections of border where it should be installed. The new spending bill removes the two-tier requirement and the list of locations.

...

Rep. Peter T. King, who sponsored the Secure Fence Act, said if the goal was to give DHS flexibility, the senators have failed.

"This is either a blatant oversight or a deliberate attempt to disregard the border security of our country," the New York Republican said. "As it's currently written, the omnibus language guts the Secure Fence Act almost entirely. Quite simply, it is unacceptable."

Then he voted for it!
Now Pete King goes on Lou Dobbs trying to justify why the hell he voted in favor of this piece of crap bill. He states that it increases Border Patrol funding and veterans benefits. He then goes on to say that in his mind the bill "balances out 51-49% that there was more good than bad in it".
Is this the kind of shit that we have to put up with from our leaders? I'm really quite furious at that answer from Pete King, someone who is supposed to be hardcore against illegal immigration and for the border fence. A bill that is 49% bad is good enough for Pete King!. You have got to be kidding me!
I just don't even know what to say. You should see my face right now as I repeat that over and over in the video player just to make sure I quoted him right. 49% bad is good enough
What the fuck!
That is what is wrong with our country right now. I personally would have voted against the bill! I would have stood up and said why I wasn't voting for this stinking piece of crap of a bill that is loaded with petty earmarks such as building a path in some park in some state. I would have allowed the government to shut down rather than pass this absolute nightmare of a bill. Why are federal monies going for a park path? Why are your taxpayer monies as a taxpayer from say Alabama going to fund a park path in Minnesota or Montana or wherever that was? Shouldn't that money have went to your local park so they could build a path?
In addition for the rest that Pete King found good about this bill, within the bill is a portion that grants $10 million to attorneys for illegal aliens
"On one page, for instance, you will find a set of new restrictions on the construction of our security fence along the border; on another, $10 million in 'emergency' funding for attorneys of illegal immigrants ... Along with those, you'll even find language gutting a Senate-passed provision encouraging English in the workplace." said House Republican Whip Roy Blunt of Missouri.
Pete King and everyone else who voted for this should be ashamed of themselves. Here is the video and full list of those who voted in favor of this bill.
(Video of Pete King's lame excuse below)
Text of the portion of the bill that decimates the fence
Others Who Are Outraged
Michelle Malkin
The Dustin Inman Society
Lonewacko
Stein Report
Ace of Spades
Captain's Quarters
No More Spin
The American Pundit
Infidels Are Cool
Liberty Pundit
Publius
Right Wing News
Sister Toldjah
Voted in Favor of HR 2764 from the roll:


Abercrombie
Ackerman
Allen
Altmire
Andrews
Arcuri
Baca
Baldwin
Barrow
Bean
Becerra
Berkley
Berman
Berry
Bilirakis
Bishop (GA)
Bishop (NY)
Boren
Boswell
Boucher
Boyd (FL)
Boyda (KS)
Brady (PA)
Braley (IA)
Brown, Corrine
Brown-Waite, Ginny
Butterfield
Capito
Capps
Capuano
Cardoza
Carnahan
Carney
Castle
Castor
Chandler
Clarke
Clay
Cleaver
Clyburn
Cohen
Conyers
Cooper
Costa
Costello
Courtney
Cramer
Crowley
Cuellar
Cummings
Davis (AL)
Davis (CA)
Davis (IL)
Davis, Lincoln
Davis, Tom
DeFazio
DeGette
Delahunt
DeLauro
Dent
Diaz-Balart, L.
Diaz-Balart, M.
Dicks
Dingell
Donnelly
Doyle
Edwards
Ellison
Ellsworth
Emanuel
Emerson
Engel
Eshoo
Etheridge
Farr
Fattah
Filner
Fossella
Frank (MA)
Gerlach
Giffords
Gillibrand
Gonzalez
Gordon
Graves


Green, Al
Green, Gene
Grijalva
Hall (NY)
Hare
Harman
Hayes
Herseth Sandlin
Higgins
Hill
Hinchey
Hinojosa
Hirono
Hodes
Holden
Holt
Honda
Hoyer
Hulshof
Israel
Jackson (IL)
Jackson-Lee (TX)
Jefferson
Johnson (GA)
Jones (OH)
Kagen
Kanjorski
Kaptur
Kennedy
Kildee
Kilpatrick
Kind
King (NY)
Kirk
Klein (FL)
Knollenberg
Kuhl (NY)
LaHood
Lampson
Langevin
Lantos
Larsen (WA)
Larson (CT)
Latham
LaTourette
Lee
Levin
Lewis (GA)
Lipinski
LoBiondo
Loebsack
Lofgren, Zoe
Lowey
Lynch
Mahoney (FL)
Maloney (NY)
Matsui
McCarthy (NY)
McCollum (MN)
McDermott
McGovern
McHugh
McIntyre
McNerney
McNulty
Meek (FL)
Meeks (NY)
Melancon
Michaud
Miller (MI)
Miller (NC)
Miller, George
Mitchell
Mollohan
Moore (KS)
Moore (WI)
Moran (VA)
Murphy (CT)
Murphy, Patrick
Murphy, Tim
Murtha
Nadler
Napolitano
Neal (MA)
Oberstar


Obey
Olver
Pallone
Pascrell
Payne
Perlmutter
Peterson (MN)
Pickering
Pomeroy
Porter
Price (NC)
Rahall
Ramstad
Rangel
Reichert
Renzi
Reyes
Reynolds
Richardson
Rodriguez
Ros-Lehtinen
Ross
Rothman
Roybal-Allard
Ruppersberger
Rush
Ryan (OH)
Salazar
Sánchez, Linda T.
Sanchez, Loretta
Sarbanes
Schakowsky
Schiff
Schwartz
Scott (GA)
Scott (VA)
Serrano
Sestak
Shays
Shea-Porter
Sherman
Shuler
Simpson
Sires
Skelton
Slaughter
Smith (NJ)
Smith (WA)
Snyder
Solis
Space
Spratt
Stupak
Sutton
Tanner
Tauscher
Thompson (MS)
Tierney
Towns
Tsongas
Turner
Udall (CO)
Udall (NM)
Upton
Van Hollen
Velázquez
Visclosky
Walsh (NY)
Walz (MN)
Wasserman Schultz
Waters
Watson
Watt
Waxman
Weiner
Welch (VT)
Wilson (OH)
Wolf
Wu
Wynn
Yarmuth
Young (AK)
Young (FL)

This is the unintended side effect of voting in a democrat congress. On the isssue of illegal aliens there was not, and is not, a dime's worth of difference between Bush and the dem's.
However, we MUST vote Republican in the 2008 election regardless of other issues. Rudy and Romney are soft on illegals and are now pandering, who knows how they will govern? McCain loves illegals and is quasi-dem. Huckabee is a dem in the Republican party (what's up with that?). With the withdrawl of Tancredo (sniff, tears) there are three left on our side; Thompson, Paul, and Hunter.
The dem's are the enemy of America, the Republicans are our only hope (signed, a recovering democrat).
Posted by: ken pope on December 20, 2007 09:28 PM