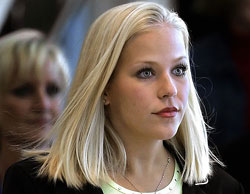 Debra LaFave
was arrested for violating her probation by talking to a minor under the age of 18. In 2005
Debra LaFave
pleaded guilty to having sex with a 14-year-old student while teaching at Greco Middle School in Florida. She was booked yesterday at 1:48PM by the Hillsborough County Sheriff's Department and released without bail.
LaFave's arrest was ordered on violation of her probation for talking to a 17-year-old female co-worker at Danny Boy's Restaurant in Sun City Center. LaFave had been working there as a waitress since January 2006, but quit in November 2007. She is now working at her mother's business, Joyce Beasley's Plaza Barber Shop in Ruskin, as a receptionist.
The topics of discussion she is said to have had with the girl included discussions of their boyfriends and sex. I'm wondering if LaFave had some ulterior motive, like maybe stealing the younger girls boyfriend from her since she's into that kind of thing.
Since 2005, LaFave has been attending a sex offender treatment program. It is said she is doing well in the program, but you can bet the eyes of the country are on her just waiting for her to screw up once again. This time she may face real jail and not just house arrest.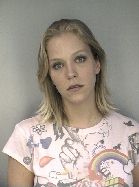 And before you think that Debra LaFave still looks like that picture at the above right from her first trial, you'd be sadly mistaken. To the left you see a picture of her now. She looks beaten down and troubled after these several years of scrutiny. She still gets no sympathy from me.
According to the violation of probation form, on several occasions, Lafave discussed with the girl "non-work related issues such as family problems, friends, high school, personal life, boyfriend issues and sexual issues in both private one-on-one conversations."

...

The manager of the restaurant said everyone there was "shocked'' by the arrest. His first inkling of a problem came three weeks ago when Lafave's probation officer called to say she could no longer work there, said manager Scott Griffin, 28. He had no idea what the problem was until reporters started calling today, Griffin said. The 17-year-old girl and Lafave have worked together for two years, according to Lafave's attorney.

Griffin said he grew up with Lafave in Ruskin and hired her as a waitress in January 2006. He said she never waited on minors and he never saw her talk or act inappropriately with a minor or anyone else. Hostesses knew not to give her a table with minors, he said.

"We don't understand this at all,'' Griffin said. "We are completely blown away.'' Her last check is still at the restaurant waiting for Lafave to pick it up, he said.

This woman just doesn't seem to get it and I'm not alone in that thinking either. Owen LaFave, Debra's ex-husband whom she was married to when she slept with her student had this to say according to the St Petersburg Times

"Try staying out of trouble and away from children," he said. "It's not working out well for her."

...

"You know, I'm not surprised," he said. "You know, here is someone who threw away her husband, threw away her career to go live with her parents and work at a deli."

Lafave said he hopes his ex-wife will be punished with time behind bars.

"I thought the original sentence was lenient, and I thought she should go to jail," he said. "I think now that she has violated her probation, she should go to jail. I think at least a year in jail. You know, it needs to be a deterrent. Everyone needs to know that if you act as inappropriately as she has, you go to jail."

Follow the law would be my recommendation.
Previous Debra LaFave coverage.