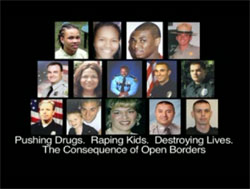 The new TV ad from
Tom Tancredo
entitled "Consequences" really pulls no punches when it comes to illegal alien gang violence.
If you've been following the illegal alien invasion and mess this country is in, some of the images should be familiar to you. Mara Salvatrucha (MS-13) is highlighted as well as other gangs.
As Tom says, "somebody needs to say it" because obviously to the other candidate, minus Duncan Hunter, illegal alien gang violence is simply a line item on their list of things to say they're opposed to on the campaign trail.
(Video below)